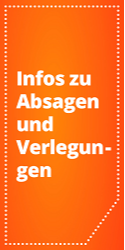 Veranstaltungsort
Molotow Musikclub
Unfortunately, no other dates are available at the moment.
Molotow Musikclub
Wenn die Touristenschwärme sich abends langsam von den Landungsbrücken zurückziehen und die Kapitäne der Barkassen zum Feierabend den Anker setzen, dann schlägt die Stunde der Bars und Nachtclubs in Hamburg! Ganz vorne mit dabei ist das Molotow, das durch zahlreiche Live-Auftritte international bekannter Bands in Hamburg Musikgeschichte geschrieben hat!

Das Molotow ist eine Kultinstitution! Seit 1990 mischt der Musikclub in der Szene mit und sorgte in der Vergangenheit bereits mit zahlreichen Konzerten für musikalische Höhepunkte. Dabei ist das Molotow stets Vorreiter in Sachen Newcomer und hat immer den besten Riecher für vielversprechende Talente. So ist es kaum verwunderlich, dass in der Clubgeschichte Namen wie The White Stripes, Die Toten Hosen, The Killers oder Sportfreunde Stiller hervorstechen, die noch vor ihrem kommerziellen Durchbruch bereits im Club erste Erfolge feiern konnten. Dass das Molotow jedoch mehr ist als nur Spielstätte, beweist die Loyalität, die viele Künstler und Besucher dem Club gegenüber zeigen. Die Band Muff Potter verewigten den Club in ihrem Lied " Wir sitzen so vorm Molotow" und auch eine Schließung konnte durch die Unterstützung zahlreicher Fans 2008 durch die Aktion "Rettet-das-Molotow" abgewendet werden.

Das Molotow ist eine echt Hamburger Institution und ein Muss für alle Musikenthusiasten der Indie-, Punk- und Rockszene!