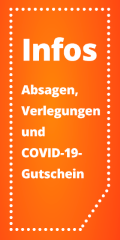 Venue location
Waldbühne Rügen
Waldbühne Rügen
Wenn Sie Kultur in einer der schönsten Locations Deutschlands erleben wollen, dann kommen Sie zur Waldbühne Rügen. Hier, im hohen Norden, lockt die Freilichtbühne mit einem abwechslungsreichen Programm und einzigartigem Ambiente. Das sollten Sie sich auf keinen Fall entgehen lassen.

Über Rügen muss man nicht viel sagen: Wunderschöne Insel, immer einen Besuch wert. Ein Highlight der Insel ist die Waldbühne Rügen. Unter freiem Himmel wird den Besucherinnen und Besuchern die ganze Bandbreite kultureller Unterhaltung geboten. Live-Konzerte, Sommer-, Kinder- und Naturfeste, Open-Air-Galerien und Kino unterm Sternenzelt – da ist wirklich für alle etwas dabei. Das Amphitheater verfügt über 4.500 Sitz- und 800 Stehplätze und bietet sowohl Insulanern als auch Urlaubern Platz. Keine Frage, die Waldbühne ist der absolute Place To Be für alle, die auf Rügen unterwegs sind. Im Herzen der Insel wird Ihnen kulturelle Unterhaltung der Extraklasse geboten.

Die Waldbühne Rügen steht am Rande der Stadt Bergen. Wer hier untergebracht ist oder wohnt, kann die Bühne bequem zu Fuß erreichen. Wenn Sie von außerhalb mit dem AUto anreisen, stehen Ihnen vor Ort ausreichend Parkmöglichkeiten zur Verfügung.