Verschoben
Bisheriges Datum:
Yankee Jodel! - In die Alpen mit Mark Twain
Bea von Malchus &nbsp
Siemensstr. 11
70469
Stuttgart
Tickets from €21.10 *
Concessions available
Event organiser: Theaterhaus Stuttgart e.V., Siemensstraße 11, 70469 Stuttgart, Deutschland
Event info
Bea von Malchus: Yankee Jodel! – In die Alpen mit Mark Twain

Hurrah! Wir verreisen. Mit Mark Twain. In die Schweizer Alpen. Und zwar zu Fuß. Es ist 1878. Zunächst verschlafen wir fünf spektakuläre Sonnenaufgänge. Danach trinken wir eimerweise Alpenmilch, verirren uns vier Meter vor dem Hotel im Nebel und bringen jodelnde Senner mit einem Handgeld zum Schweigen. Tagelang geben wir mit unseren Alpenstöcken an, dann folgt die Pause. Nach der Pause bezwingen wir den gefürchteten Riffelberg. Im Abendanzug! Oh yes! Es wird hart und es geht bergauf! Wir werden Sprengstoff brauchen... We will fluch, we will smoke and we will be verzweifelt. But am Ende liegt uns Zermatt zu Füssen.
Yankee Jodel - ein Alpenteuer voller Blue-Grass Musik, Spannung und Sprengstoff. 100% Muskelkater frei.
Location
Theaterhaus
Siemensstr. 11
70469 Stuttgart
Germany
Plan route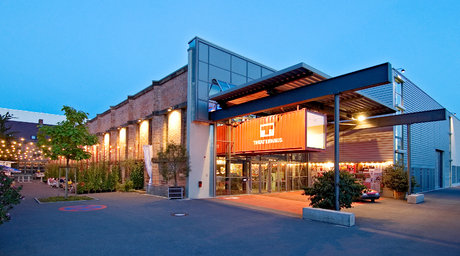 Ein einziger Ort, der Kunst, Kultur und Sport verbindet – Dieser Traum ist 1985 mit der Gründung des Theaterhaus Stuttgart e.V. wahr geworden! Seit 2003 ist der Sitz in den ehemaligen Rheinstahlhallen nahe dem Pragsattel im Norden Stuttgarts. Dort sucht das Theaterhaus Stuttgart mit seinen vier Veranstaltungshallen, dem Glashaus und der Sporthalle europaweit nach seinesgleichen.

Pro Jahr sind mehr als 300.000 Besucher bei Veranstaltungen aller Art anzutreffen: Theater, Tanz, Shows, Konzerte, Comedy, Kabarett, Lesungen, Kongresse, Sportevents… Zudem richtet das Theaterhaus seit 1987 jährlich die Theaterhaus Jazztage aus, sowie seit 2015 biennal das COLOURS International Dance Festival. Mit dem Theaterhaus Schauspielensemble und der Gauthier Dance//Dance Company Theaterhaus Stuttgart erfreut sich das Veranstaltungshaus zweier ausgezeichneter und erfolgreicher Ensembles.

Das Theaterhaus Stuttgart ist eines der bedeutendsten seiner Art und inzwischen ein einzigartiges Kulturzentrum.