White Dog
Latifa Laâbissi &nbsp
Hallesches Ufer 32
10963
Berlin
Tickets from €16.50
Concessions available
Event organiser: HAU - Hebbel am Ufer, Stresemannstraße 29, 10963 Berlin, Deutschland
Event info
Wie können wir geübte Sichtweisen, wie alten Groll ablegen? Wie können wir die Gewalt und den Lärm medialer Debatten überlisten? In ihrer neuen Performance für vier Performer*innen schlägt Latifa Laâbissi eine überraschende Strategie vor: Fortlaufen! "White Dog" konzentriert sich auf die Bewegungen der Flucht, auf Drehungen und Ausweichmanöver als Formen eines poetischen Kampfes. Damit knüpft die französische Tänzerin und Choreografin an Themen ihrer vorangehenden Arbeiten an, wie Camouflage, das Sichtbarmachen von Marginalisiertem und die Gemeinschaftsbildung eigensinniger Individuen.
________________________________________________________________________________________

How can we discard practised points of view, like old resentments? How can we outsmart the clamour and violence of media debates? In her new piece for four performers, Latifa Laâbissi suggests a surprising strategy: walk away! "White Dog" concentrates on the movements of fleeing, on turning and sidestepping as a form of poetic struggle. The French dancer and choreographer thus ties in to themes from her previous works, such as camouflage, visualising the marginalised and communities of wilful individuals.
Location
HAU2
Hallesches Ufer 32
10963 Berlin
Germany
Plan route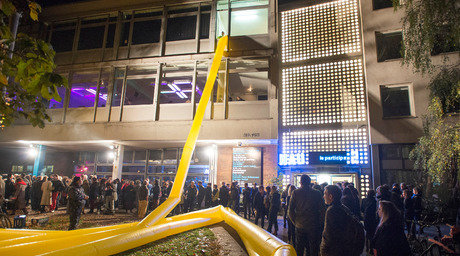 In der Spielzeit 2003/2004 haben sich drei selbstständige Bühnen zu einer neuen, einzigartigen Theaterinstitution zusammengefügt. Das Hebbel-Theater, das Theater am Halleschen Ufer und das Theater am Ufer bilden nun das "Hebbel am Ufer", kurz "HAU".

Hier weht ein frischer Wind, besonders in Person von Annemie Vanackere. Die Belgierin ist seit 2012 Intendantin des Hauses und hat sich voll und ganz der Kunst verschrieben. Sie steht für das Unkonventionelle und sammelte bereits in Gent sowie an der Schouwburg in Rotterdam Erfahrungen in der freien Theaterszene. Sie versteht das Theater als Freiraum, in dem Kunst und Ästhetik jegliche Form der Funktionalität überwinden, wodurch festgefahrene Strukturen und Denkmuster aufgebrochen werden können.

Innovation ist der kreative Motor des Theaters. Das HAU steht allerdings ebenso für Tradition: Sowie das Hebbel-Theater für internationale Gastspiele bekannt war, soll auch das Hebbel am Ufer eine Spielstätte für Künstler aus der ganzen Welt sein. So vielfältig und verschieden wie die beteiligten Akteure, ist daher auch das Programm, welches aus Theater, Tanz, Performance, Musik und Bildender Kunst besteht.