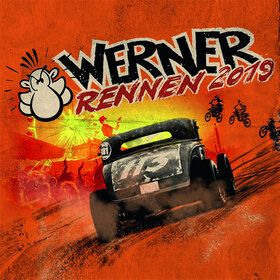 Scooter, Böhse Onkelz, The BossHoss, In Extremo, Eisbrecher u. v. m.
Nach dem großen Erfolg 2018 geht das Werner Rennen 2019 in die nächste Runde. Vom 29. August bis zum 01. September dreht sich auf dem Flugplatz Hartenholm in Hasenmoor wieder alles um Motorsport und Musik. Brösel, Andi und Holgi haben da eine ganze Menge vorbereitet. Besonderes Highlight in diesem Jahr ist der Auftritt der Böhse Onkelz.

Benzin, Gummi, Bier und eine jede Menge Konzerte machen aus dem Werner Rennen ein beinhartes Wochenende. Das Motorsportfestival bietet harten Rock und spannende Rennen in verschiedenen Kategorien.

Das erste Werner Rennen fand 1988 statt, seitdem hat es immer wieder erfolgreiche Neuauflagen gegeben. Hier wird sich in Stock Car, Moto Cross, Drag Race, Tractor Pulling und weiteren Kategorien gemessen. Erlebt das knallharte Kräftemessen von der Tribüne aus oder kommt den "heißen Öfen" im Fahrerlager ganz nah. Viel weiteres Programm und die Konzerte runden das Festival-Erlebnis ab. Auch bei den Bands gibt es ordentlich was auf die Ohren. Wie immer eine gute Portion harten Rock, der richtig Bock auf Rennen macht und andere Musik, zu der die ganze Nacht gefeiert werden kann.

Freut euch auf ein komplettes Wochenende harten Motorsport, Werner-Action und unvergessliche Konzerte! Jetzt Tickets fürs Werner Rennen sichern und dabei sein!

Line-Up 2019: Scooter / Böhse Onkelz / The BossHoss / In Extremo / Eisbrecher / Kim Wilde / Thundermother / Blaas Of Glory / Crossplane / Kärbholz / Motorjesus / Nitrogods / Die Andersons / The Bones / Skyline / The Coast Guards / The Klempins / The OReilleys And The Paddyhats / The Waltons / Feuerwehrmuskzug Hartenholm / u.v.m.
Source: Reservix