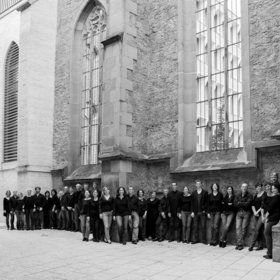 To be sung on the water - John Sheppard Ensemble
Konzert mit Videoinstallation &nbsp
Maria-von-Rudloff-Platz 1
79111
Freiburg im Breisgau
Tickets from €18.00
Concessions available
Event organiser: John Sheppard Ensemble Freiburg, Riedbergstr. 17, 79100 Freiburg, Deutschland
Information on concessions
Ermäßigung gilt für:
Schüler, Studierende, Auszubildende, Arbeitslose, Schwerbehinderte
Bitte die Ermäßigungsberechtigung ggf. an die Abendkasse mitbringen!
Event info
"Des Menschen Seele gleicht dem Wasser" - der Beginn des Gedichts von Goethe schwebt gleichsam als Leitidee über dem diesjährigen Herbstprogramm des John Sheppard Ensembles. Bild- und assoziationsreich werden hier Größe, Geheimnis und auch Gewalt der Natur und des Schöpfers mit dem menschlichen Dasein in Beziehung gesetzt. Der gedankliche und klangliche Bogen spannt sich von Alfred Schnittkes "Stimmen der Natur" über das titelgebende "to be sung on the water" von Samuel Barber, in der ein auf dem Strom des Lebens ruderndes Paar in unterschiedliche Richtungen strebt, zur legendären versunkenen Stadt "Vineta" in Vertonungen von Brahms und Ešenvalds, in der auch das vergangene Glück begraben scheint, bis hin zum eisernen Grab des Schiffs Estonia, deren Untergang der Finne Jaakko Mäntyjärvi in seinem "Canticum calamitatis maritimae" eindrücklich thematisiert. Dem Chor als Dialogparter steht der Percussionist Philipp Becker zur Seite, die Videokünstlerin Manuela Hartel nutzt Kirche und Chor während des Konzerts als Projektionsfläche für ihre Videoinstallationen. Die Leitung hat Bernhard Schmidt.