 Special design ticket
TINA - The Rock Legend - The Ultimate Tribute - Explosiv! Authentisch! LIVE on stage!
Heiersmauer 45-51
33098
Paderborn
Tickets from €41.90
Concessions available
Event organiser: RESET Production, Straße des Friedens 200, 07548 Gera, Deutschland
Event info
Das einzigartige Tribute-Event "Tina – The Rock Legend" bringt Tina Turners feurige Bühnenshow auf Tour.

"Die große Tina Turner - eine absolute Ausnahmekünstlerin. Ihr einzigartiges Lebenswerk feiern und ehren - das ist unser Anspruch bei TINA - The Rock Legend" so Michael Noll, Geschäftsführer von Reset Production.

Die Verehrung für die Rock Legende spürt man in der aufwändig produzierten Multimedia-Show vom ersten bis zum letzten Ton.

"Nutbush City Limits", "Let's Stay Together", "What's Love Got To Do With It", "Break Every Rule", "Typical Male", "Foreign Affair", "Simply The Best", "GoldenEye". Ein Superhit jagt den nächsten – performed mit einer umwerfenden Wucht und leidenschaftlicher Bühnenpräsenz durch das hochkarätig besetzte Ensemble aus erstklassigen Sängern, Musikern und Tänzern ist das Tribute-Konzert unfassbar nah am Original.

Erleben Sie eine beeindruckende musikalische Retrospektive über das Lebenswerk des Superstars Tina Turner in einem einzigartigen Tribute-Konzert der Superlative.

Explosiv! Authentisch! LIVE on stage!
Videos
Location
PaderHalle
Heiersmauer 45-51
33098 Paderborn
Germany
Plan route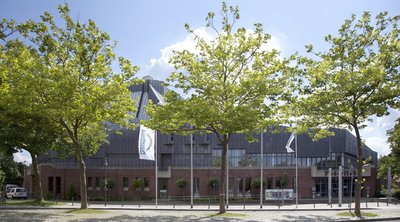 Die Paderhalle in der Nordrhein-Westfälischen Universitätsstadt Paderborn steht für ein vielfältiges und abwechslungsreiches Veranstaltungsprogramm. Von Konzerten nationaler und internationaler musikalischer Größen über Comedyshows bis hin zu Partys bietet sie alles, was das Herz begehrt und geht dabei auf die unterschiedlichen Bedürfnisse und Wünsche aller Altersgruppen ein.

Die Paderhalle wurde 1981 eröffnet und ist seitdem aus dem Paderborner Kulturleben nicht mehr wegzudenken. Sie befindet sich im Zentrum Paderborns auf dem Maspernplatz, sodass sie von allen Stadtteilen aus sowohl mit dem Auto als auch mit öffentlichen Verkehrsmitteln einfach und schnell erreichbar ist.

Außer für ihr ausgewähltes und vielseitiges Programm ist die Paderhalle auch für ihre ausgereifte und hochwertige Technik bekannt, die den Veranstaltungen das i-Tüpfelchen aufsetzt und einen absoluten Genuss der Darbietungen gewährleistet.