Special design ticket
TINA - The Rock Legend - The Ultimate Tribute - Explosiv! Authentisch! LIVE on stage!
An den Hochöfen 1
66538
Neunkirchen
Tickets from €39.00
Concessions available
Event organiser: RESET Production, Straße des Friedens 200, 07548 Gera, Deutschland
Event info
Das einzigartige Tribute-Event "Tina – The Rock Legend" bringt Tina Turners feurige Bühnenshow auf Tour.

"Die große Tina Turner - eine absolute Ausnahmekünstlerin. Ihr einzigartiges Lebenswerk feiern und ehren - das ist unser Anspruch bei TINA - The Rock Legend" so Michael Noll, Geschäftsführer von Reset Production.

Die Verehrung für die Rock Legende spürt man in der aufwändig produzierten Multimedia-Show vom ersten bis zum letzten Ton.

"Nutbush City Limits", "Let's Stay Together", "What's Love Got To Do With It", "Break Every Rule", "Typical Male", "Foreign Affair", "Simply The Best", "GoldenEye". Ein Superhit jagt den nächsten – performed mit einer umwerfenden Wucht und leidenschaftlicher Bühnenpräsenz durch das hochkarätig besetzte Ensemble aus erstklassigen Sängern, Musikern und Tänzern ist das Tribute-Konzert unfassbar nah am Original.

Erleben Sie eine beeindruckende musikalische Retrospektive über das Lebenswerk des Superstars Tina Turner in einem einzigartigen Tribute-Konzert der Superlative.

Explosiv! Authentisch! LIVE on stage!
Videos
Location
Gebläsehalle Neunkirchen
Gustav-Regler-Straße
66538 Neunkirchen
Germany
Plan route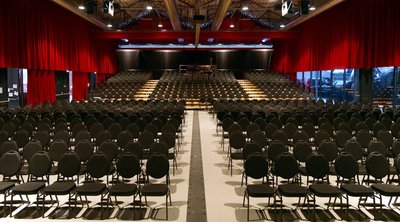 Das ganze Jahr über ist der Elbauenpark in Magdeburg mit der Seebühne und dem einzigartigen Jahrtausendturm einen Besuch wert. Der 2005 zum zweitschönsten Park Deutschlands gewählte Flecken Erde wartet mit zahlreichen Attraktionen, grünen Wiesen und bunten Blumenrabatten auf Ihren Besuch.

Anlässlich der Bundesgartenschau 1999 entstand innerhalb weniger Jahre ein wunderschöner Park auf den Trümmermassen der beiden Weltkriege. In 14 verschiedenen Themengärten warten zahlreiche tolle Attraktionen darauf, entdeckt zu werden. Bei einer Rundfahrt mit der 3 Kilometer langen Panoramabahn kann man einen ersten Eindruck vom Gelände erhalten. Der Jahrtausendturm, das weltweit größte Holzbauwerk seiner Art, zeigt in einer einzigartigen Ausstellung über 6.000 Jahre Menschheitsgeschichte und auch für Kinder und andere Spielbegeisterte ist viel geboten: Sommerrodelbahn, Kletterturm, Irrgarten und Spielgelände laden zum Toben ein.

Mittlerweile ist der Elbauenpark mit seiner einzigartigen Landschaft, in der die Überbleibsel des Krieges mit Blütenstauden, moderner Kunst und Bambusdickichten vereint wurden, zu einem Ort der Ruhe und Entspannung geworden. Vor allem die Seebühne lockt mit tollen Konzerten, Inszenierungen und vielem anderen zahlreiche Zuschauer in den Elbauenpark.