 Special design ticket
TINA - The Rock Legend - The Ultimate Tribute - Explosiv! Authentisch! LIVE on stage!
Schwieberdinger Straße 30
71636
Ludwigsburg
Tickets from €44.90
Concessions available
Event organiser: RESET Production, Straße des Friedens 200, 07548 Gera, Deutschland
Event info
Das einzigartige Tribute-Event "Tina – The Rock Legend" bringt Tina Turners feurige Bühnenshow auf Tour.

"Die große Tina Turner - eine absolute Ausnahmekünstlerin. Ihr einzigartiges Lebenswerk feiern und ehren - das ist unser Anspruch bei TINA - The Rock Legend" so Michael Noll, Geschäftsführer von Reset Production.

Die Verehrung für die Rock Legende spürt man in der aufwändig produzierten Multimedia-Show vom ersten bis zum letzten Ton.

"Nutbush City Limits", "Let's Stay Together", "What's Love Got To Do With It", "Break Every Rule", "Typical Male", "Foreign Affair", "Simply The Best", "GoldenEye". Ein Superhit jagt den nächsten – performed mit einer umwerfenden Wucht und leidenschaftlicher Bühnenpräsenz durch das hochkarätig besetzte Ensemble aus erstklassigen Sängern, Musikern und Tänzern ist das Tribute-Konzert unfassbar nah am Original.

Erleben Sie eine beeindruckende musikalische Retrospektive über das Lebenswerk des Superstars Tina Turner in einem einzigartigen Tribute-Konzert der Superlative.

Explosiv! Authentisch! LIVE on stage!
Videos
Location
MHPArena
Schwieberdinger Straße 30
71636 Ludwigsburg
Germany
Plan route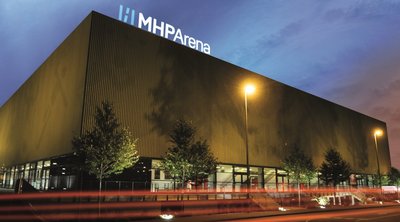 Die MHPArena, im baden- württembergischen Ludwigsburg, ist eine multifunktionale Halle, die für Veranstaltungen aller Art nutzbar ist. Ob Sportevents, Konzert- und Comedyveranstaltungen oder Vorträge, Tagungen und Kongresse, die MHPArena schafft mit einem Höchstmaß an Funktionalität die optimalen Bedingungen. Namensgeber ist die Porsche Tochtergesellschaft Mieschke Hofmann und Partner (MHP), die ebenfalls Hauptsponsor des hiesigen Basketball- Bundesligisten MHP Riesen Ludwigsburg ist. Bei Heimspielen des Basketballteams und des 2. Handball- Bundesligisten SG Bietigheim- Metterzimmern hat sich die Arena schnell als besondere Bereicherung für die Region erwiesen.

Der Innenraum der Arena gliedert sich in drei Ebenen und kann je nach Nutzung bis zu 6.500 Sitz- und Stehplätze zur Verfügung stellen. Das großzügige Foyer und der lichtdurchflutete Umgang erweitern die Raumnutzung und sorgen für eine freundliche Atmosphäre. In unmittelbarer Nähe zu Bahnhof und Innenstadt, die in wenigen Minuten zu Fuß erreicht werden können, glänzt die MHPArena mit einer sehr zentralen Lage und einer idealen Anbindung an die öffentlichen Verkehrsmittel. Gleichzeitig ist für eine ausreichende Zahl an Parkplätzen gesorgt.

In der modernen multifunktionalen Arena wird den Besuchern eine perfekte Plattform für kulturelle Höhepunkte geboten. Die MHPArena verspricht reinste Unterhaltung in Sport, Musik und Comedy.