The Wonderful and The Ordinary
Gunilla Heilborn / Theater im Bahnhof &nbsp
Stresemannstraße 29
10963
Berlin
Tickets from €11.00
Concessions available
Event organiser: HAU - Hebbel am Ufer, Stresemannstraße 29, 10963 Berlin, Deutschland
Event info
Ist es wahr, dass wir uns mehr an die großen Ereignisse erinnern als an das Gewöhnliche? An Schlachten und Revolutionen, Königinnen und Könige? Und was bleibt von all den vermeintlich irrelevanten Details des alltäglichen Lebens? In "The Wonderful and The Ordinary" begeben sich die schwedische Choreografin Gunilla Heilborn und das Grazer Theater im Bahnhof auf die Suche nach Techniken des Erinnerns für diese Alltäglichkeiten. Mit verschiedensten Mitteln, mit Bewegungen, Gerüchen und Popsongs versuchen die Performer*innen, ihre eigenen Erinnerungen abzurufen – und entbergen das Außergewöhnliche im scheinbar Gewöhnlichen.
Is it true that we tend to remember the big events rather than the ordinary ones? That we recall battles and revolutions, kings and queens? And what remains of all the apparently irrelevant details of daily life? In "The Wonderful and The Ordinary" the Swedish choreographer Gunilla Heilborn and the Theater im Bahnhof Graz search for recollective techniques for the everyday. With an array of means, with movement, aromas and pop songs, the performers attempt to call up their memories – and reveal the wonderful in the apparently ordinary.
Location
HAU1
Stresemannstraße 29
10963 Berlin
Germany
Plan route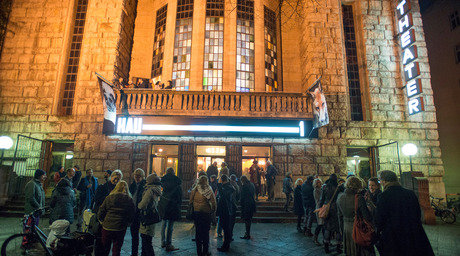 In der Spielzeit 2003/2004 haben sich drei selbstständige Bühnen zu einer neuen, einzigartigen Theaterinstitution zusammengefügt. Das Hebbel-Theater, das Theater am Halleschen Ufer und das Theater am Ufer bilden nun das "Hebbel am Ufer", kurz "HAU".

Hier weht ein frischer Wind, besonders in Person von Annemie Vanackere. Die Belgierin ist seit 2012 Intendantin des Hauses und hat sich voll und ganz der Kunst verschrieben. Sie steht für das Unkonventionelle und sammelte bereits in Gent sowie an der Schouwburg in Rotterdam Erfahrungen in der freien Theaterszene. Sie versteht das Theater als Freiraum, in dem Kunst und Ästhetik jegliche Form der Funktionalität überwinden, wodurch festgefahrene Strukturen und Denkmuster aufgebrochen werden können.

Innovation ist der kreative Motor des Theaters. Das HAU steht allerdings ebenso für Tradition: Sowie das Hebbel-Theater für internationale Gastspiele bekannt war, soll auch das Hebbel am Ufer eine Spielstätte für Künstler aus der ganzen Welt sein. So vielfältig und verschieden wie die beteiligten Akteure, ist daher auch das Programm, welches aus Theater, Tanz, Performance, Musik und Bildender Kunst besteht.
Videos