The Vagina Monologues - dark monday: v-day 2020
Augustenstrasse 72
70178
Stuttgart
Tickets from €12.00
Concessions available
Event organiser: Kulturverein Merlin e.V., Augustenstraße 72, 70178 Stuttgart, Deutschland
Information on concessions
Beim Kauf einer ermäßigten Karten muss der entsprechende Ausweis an der Abendkasse vorgezeigt werden (SchülerInnen, StudentInnen, Azubis, Bufdis und Arbeitslose).
Wenn im Vorverkaufssystem keine ermäßigten Karten angezeigt werden, gibt es für diese Veranstaltung keine Ermäßigung.
Event info
Just as funny, shocking and relevant today as it was when it debuted in 1996, The Vagina Monologues has been breaking taboos and empowering women and people across the gender spectrum who are subject to sexualized violence, harassment, and discrimination through humor, storytelling, and poetry. For the fifth year in a row, V-Day Stuttgart, in association with NEAT (New English American Theater) is proud to perform Eve Ensler's impactful play, The Vagina Monologues to fearless audiences in Stuttgart. We give back to Stuttgart's valuable organizations with theater as an act of uprising. V-Day Stuttgart's international cast of actors from around the world will tell stories with vastly different individual voices that detail diverse but connected stories of the feminine experience. All proceeds from The Vagina Monologues will once again be donated to Frauen helfen Frauen and Frauenberatungs- und Therapiezentrum Fetz. While we witness abusers and assaulters gaining and maintaining power all over the world, The Vagina Monologues reminds us that we can change rape culture through the power of storytelling and art. V-Day is a global activist movement to stop violence against all women and girls - cisgender, transgender, and those who hold fluid gender identities. Through V-Day, every February, networks of activists across the world raise awareness of gender-based violence through performances of The Vagina Monologues, raising funds for organizations that share author Eve Ensler's mission of ending violence worldwide by fighting it in our local communities Come be part of the uprising!
Location
Kulturzentrum Merlin
Augustenstr. 72
70178 Stuttgart
Germany
Plan route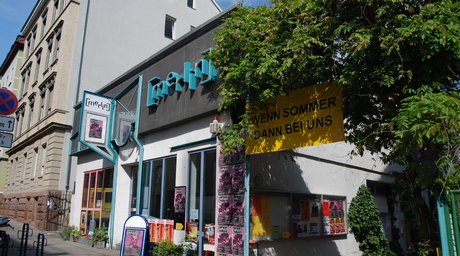 Das "Merlin" im Stuttgarter Westen ist über 25 Jahre alt! Doch wie kaum eine andere etablierte Kultureinrichtung ist es jung, frech, sexy und manchmal auch trendig. Künstler wie Helge Schneider, Georg Schramm und Musiker wie Niels Frevert oder "Bonaparte" haben hier schon auf der Bühne gestanden.

Anfang der 1980er wurde das Kulturzentrum ins Leben gerufen. Seitdem lockt es mit einem vielseitigen Programm und verschiedenen Festivals. Das Stuttgarter "ChanSongFest", das "Kabarettfestival" und die Stuttgarter Jazztage finden in den Räumlichkeiten Platz. Doch das ganz besondere sind die genreübergreifenden und neuen Kulturprojekte. Neue Trends werden entdeckt und gefördert. Dadurch ist das Kulturzentrum zu einer Art Kulturschmiede avanciert. Über 500 Veranstaltungen bietet das "Merlin" im Jahr an. Eine gemütliche Atmosphäre sorgt für perfekte Konzertabende. Das Kulturzentrum verbindet Kabarett mit Rock und Blues. Und stellt nebenbei auch noch Räume für Bürgerinitiativen, Podiumsdiskussionen, Workshops und Seminare zur Verfügung.

Das "Merlin" ist schon längst zu einer festen Kulturinstitution Stuttgarts geworden. Das außergewöhnliche Programm hat für jeden etwas passendes anzubieten – überzeugen Sie sich selbst!