The Sound of Bronkow - Festival Folk - Indie - Singer / Songwriter
SOB - Festival &nbsp
An der Dreikönigskirche 1 a
01097
Dresden
Event organiser: Societaetstheater gGmbH, An der Dreikönigskirche 1a, 01097 Dresden, Deutschland
Information on concessions
Keine Ermäßigungen möglich.
Event info
Das SOUND OF BRONKOW ist ein dreitägiges Musikfestival für Folk, Indie und Singer/Songwriter, präsentiert vom lokalen Plattenlabel K&F Records und dem Societaetstheater. Auf drei Indoor- und einer Gartenbühne spielen die musikalischen Freunde, die Kumpels and Friends. Dazu gehören lokale, genau wie nationale und internationale Künstler.
2019 geht man bereits ins zehnte Jahr. Die beteiligten Künstler entstammen zu einem großen Teil der Kumpels and Friends-Familie, sei es durch die Zusammenarbeit beim Booking (Kumpels and Friends Konzerte) oder durch Veröffentlichungen auf K&F Records. Darüber hinaus wurden wieder zahlreiche internationale Künstler und Bands gebucht, die den Kumpels and Friends-Machern schon ewig lodernde Herzensangelegenheit sind.

Tickets erhaltet ihr für 40 Euro direkt bei uns an der Theaterkasse oder als Print@Home-Ticket plus VVK-Gebühren über unseren Kartenlink bei reservix.de

bisheriges Line-Up: Daniel Norgren (SE), Garda (D), Francesco Wilking & Moritz Krämer (DE), Vögel die Erde essen (D), Dylan LeBlanc (US), Pauls Jets (AT), Kliffs (CAN), u.v.a.
Location
Societaetstheater
An der Dreikönigskirche 1a
01097 Dresden
Germany
Plan route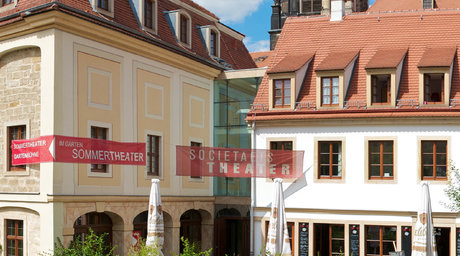 Ein historisches Gebäude, ein tolles Programm und eine Bühne, die Platz für Künstler aus dem In- und Ausland bieten. Das ist das Societaetstheater in Dresden. Es schafft den Balanceakt zwischen dem Glanz der vergangenen Jahrhunderte und dem Zauber moderner Inszenierungen.

1779 begann die erste, sehr kurze Nutzung des Societaetstheaters. Nach fünfzig Jahren wurde das Projekt auf Eis gelegt. Mit dem Schauspiel "Die Erinnerung" schloss das Theater vorrübergehend. Und die Erinnerung an diese Tage veranlasste den Verein "Societaetstheater e. V." den Spielbetrieb Ende der 1990er-Jahre wieder aufzunehmen. Seitdem bieten die restaurierten Räumlichkeiten Platz für zwei Bühnen, einen Spielraum im Foyer und eine Bühne im barocken Garten. Ein modernes Theater mit Schwerpunkt auf Sprech-, Tanz-, Musik-, und Figurentheater hat hier Einzug gehalten. Des Weiteren finden hier Werkstattveranstaltungen und Festivals statt.

Das älteste Bürgertheater Dresdens mit der einzigen Gartenbühne Dresdens ist ein Must-See. Neben Zwinger, Frauenkirche und Semperoper gehört dieses Theater zu den Hauptattraktionen der wunderschönen Stadt an der Elbe.
Videos