Verschoben
Bisheriges Datum:
The Queen Kings - "A Kind of Queen"
Mannheimerstraße 35
68723
Schwetzingen
Tickets from €29.60 *
Concessions available
Event organiser: Wollfabrik Event GmbH, Mannheimer Str. 35a, 68723 Schwetzingen, Deutschland
Information on concessions
Rollstuhlfahrer bitte anmelden unter info@alte-wollfabrik.de
Location
Wollfabrik
Mannheimer Straße 35
68723 Schwetzingen
Germany
Plan route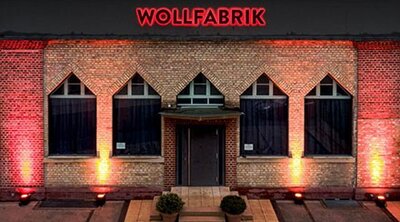 Zwischen Mannheim und Heidelberg, im Herzen der Region Rhein-Neckar, befindet sich die Avantgarde-Location "Die Wollfabrik". Die ehemalige Sommerresidenz des Kurfürsten Carl-Theodor hat sich nach mehreren Umbauarbeiten und Modernisierungen zu einem idealen Veranstaltungsort gewandelt und bietet nun die besten Voraussetzungen für Events aller Art. Ob Konzerte, Firmenveranstaltungen, Kongresse, private Festlichkeiten oder Tagungen, die flexible und individuelle Raumgestaltung, garantiert die optimale Umsetzung jeden Festes.

In der Wollfabrik trifft Geschichte auf Modernität. Das alte Backsteingemäuer, die dunklen historischen Holzfußböden und die moderne Innenausstattung harmonieren perfekt miteinander und schaffen eine unverwechselbare Wohlfühlatmosphäre. Der große Saal kann bis ca. 310 Personen unterbringen und verfügt über raffinierte Medien-, Ton- und Lichttechnik. Im nahegelegenen Parkhaus "Wildemannstraße" und auf den öffentlichen Parkplätzen sind genügend Stellmöglichkeiten für die Besucher vorhanden.

Die Wollfabrik in Schwetzingen beeindruckt mit einem einzigartigen Ambiente. Schauen Sie doch einfach vorbei. Sie werden wunderbare Stunden verbringen!