Event organiser: HAU - Hebbel am Ufer, Stresemannstraße 29, 10963 Berlin, Deutschland
Restkarten ggf. an der Abendkasse
Event info
"The practice of love is the practice of magic."

Das multidisziplinäre Projekt "The Practice of Love" der norwegischen Musikerin, Komponistin und Autorin Jenny Hval erschafft eine betörende Einheit aus Musik, Literatur und Bewegung. Es verfolgt klangliche, visuelle und choreografische Ideen, indem es Stimmen, Klänge und sogar Körper in Texte verwandelt – in einem Prozess, den Hval als eine Form der Magie bezeichnet. Mit einem multinationalen Ensemble aus experimentellen Musiker*innen, Sänger*innen, Tänzer*innen und Videokünstler*innen weitet Hval ihr Schaffen in neue und noch gewagtere Sphären aus.

Das Stück erkundet die Beziehung von Leben und Kunst auf einzigartige Weise durch eine Nabelschnurmagie, die die Möglichkeit, Kunst zu schaffen, damit zusammenbringt, Leben zu erschaffen und sich auf andere Menschen zu beziehen; es sucht nach Empathie und einer gemeinsamen Sprache, indem miteinander gesprochen, gesungen und geschrieben wird. Darüber hinaus widmet das Stück sich dem Verhältnis von Stimme/Präsenz/Leben zu geschriebenem Wort/Absenz/Tod: Die Stimme ist das Produkt eines lebenden Körpers, sie stellt unsere erste Beziehung zu einem anderen Menschen dar, wenn wir die Stimme unserer Mutter vernehmen und auf sie reagieren… Als Tote können wir indes nicht länger "Ich" sagen, und die geschriebenen Worte sind das, was von uns eingemeißelt in einen Grabstein bleibt. Verbirgt sich hinter der Liebe zu Worten der Todestrieb?

Mit Klängen, Texten und manipulierten Bildern ist "The Practice of Love" zugleich magische Séance und Erkundung des Wesens der Kreativität.

"The practice of love is the practice of magic."

"The Practice of Love" is a multidisciplinary immersion in music, literature and movement by Norwegian musician, composer and writer Jenny Hval. It explores sonic, visual and choreographic ideas while transforming voices, sounds and even bodies into texts, in a process that Hval herself describes as a form of magic. With a multinational ensemble including experimental musicians, vocalists, dancers and video artists, this new project extends Hval's work into new and even more challenging territory.


The piece investigates the connection between life and art in a specific way – an umbilical magic, which brings together the possibility of creating art, creating life, and relating to other people, looking for empathy and a common language through speaking, singing, writing together. It also looks at the relationship between voice / presence / life and written word / absence / death: The voice comes from a living body, it is how we first relate to other humans, hearing our mothers´ voice and responding to it ... Whereas the dead body can no longer say "I", and the written words are the remains that are chiseled into our tombstones. Is being drawn to words a death drive?


Using sound, text and image manipulation, "The Practice of Love" is both a magical séance and an inquiry into the nature of creativity.
Location
HAU2
Hallesches Ufer 32
10963 Berlin
Germany
Plan route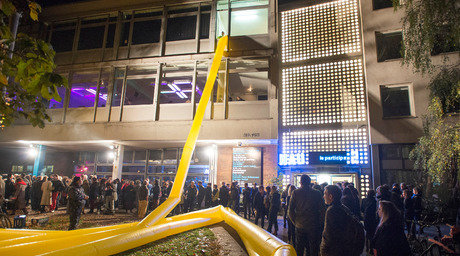 In der Spielzeit 2003/2004 haben sich drei selbstständige Bühnen zu einer neuen, einzigartigen Theaterinstitution zusammengefügt. Das Hebbel-Theater, das Theater am Halleschen Ufer und das Theater am Ufer bilden nun das "Hebbel am Ufer", kurz "HAU".

Hier weht ein frischer Wind, besonders in Person von Annemie Vanackere. Die Belgierin ist seit 2012 Intendantin des Hauses und hat sich voll und ganz der Kunst verschrieben. Sie steht für das Unkonventionelle und sammelte bereits in Gent sowie an der Schouwburg in Rotterdam Erfahrungen in der freien Theaterszene. Sie versteht das Theater als Freiraum, in dem Kunst und Ästhetik jegliche Form der Funktionalität überwinden, wodurch festgefahrene Strukturen und Denkmuster aufgebrochen werden können.

Innovation ist der kreative Motor des Theaters. Das HAU steht allerdings ebenso für Tradition: Sowie das Hebbel-Theater für internationale Gastspiele bekannt war, soll auch das Hebbel am Ufer eine Spielstätte für Künstler aus der ganzen Welt sein. So vielfältig und verschieden wie die beteiligten Akteure, ist daher auch das Programm, welches aus Theater, Tanz, Performance, Musik und Bildender Kunst besteht.