The Music of Hans Zimmer & Others - A Celebration of Filmmusic
Europaplatz 12
26123
Oldenburg
Event organiser: VMS Entertainment GmbH, Europaplatz 12, 26123 Oldenburg, Deutschland
Event info
Die Klangwelten von Hans Zimmer in großer Aufführung mit Orchester, Chor, Solisten / u.a. mit der Musik aus Fluch der Karibik, König der Löwen, Mission Impossible, Batman, Dark Knight, Inception, Interstellar, Dunkirk, Superman & Gladiator!

Das Publikum wird auch interessante Hintergrund-Storys erfahren, etwa wie Hans Zimmer den Anfang von Gladiator mit Ridley Scott komplett veränderte und im Gesangstext zu König der Löwen in der Landessprache eine Botschaft gegen Apartheid reinschmuggelte und dem großen Disney-Konzern erzählte, es ginge um Schmetterlinge....

"The Music of Hans Zimmer & Others - A Celebration of Filmmusic" wird von dem Hollywood Philharmonic Orchestera sowie einem Chor und internationalen Solisten präsentiert, mit einer beeindruckenden Lichtshow, Projektionen sowie ausgewählten Filmeinspielungen. "The Music of Hans Zimmer & Others – A Celebration of Filmmusic" ist ein unvergessliches audiovisuelles Konzertereignis!
Location
Weser-Ems-Hallen
Europaplatz 12
26123 Oldenburg
Germany
Plan route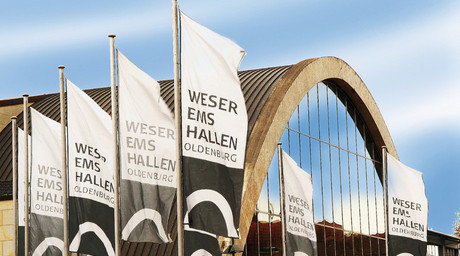 Neuartige Architektur, Multifunktionalität, die Verbindung von Sport und Kultur und ein vielseitiges Programm haben den Gebäudekomplex der Weser-Ems-Hallen in Oldenburg zu einem der wichtigsten regionalen Veranstaltungsorte avancieren lassen.

Die Weser-Ems-Hallen (Kongresshalle, Messehalle, Kleine EWE ARENA und Große EWE ARENA) bieten Platz für klassische Konzerte, große Messen und aufwendige Veranstaltungen. Die Kongresshalle überzeugt mit atemberaubender Akustik und flexiblen Raumnutzungsangeboten. Die Messehalle liefert mit 5.400 m² freistehender Fläche und Raum für bis zu 8.000 Besucher beste Voraussetzungen für Veranstaltungen aller Art – von der Jahreshauptversammlung über Messen bis hin zu ausgelassenen Rockkonzerten.

Als kulturelles Zentrum der Stadt lockt der Gebäudekomplex tausende Kultur- und Sportbegeisterte an. Hier können unvergessliche Shows inszeniert, atemberaubende Konzerte aufgeführt und spannende Sportevents sowie Kongresse veranstaltet werden. Ohne Frage ist der Stadt Oldenburg mit dem Bau des Komplexes ein wahrer Geniestreich gelungen. Künstler aus aller Welt lassen sich die Top-Location nicht entgehen. Hier können Sie sich für einen Abend aus dem Alltag entführen lassen.

Die Weser-Ems-Hallen bieten Qualität auf höchstem Niveau und sind Garant guter Unterhaltung. Diesen Veranstaltungsort sollten Sie sich nicht entgehen lassen.