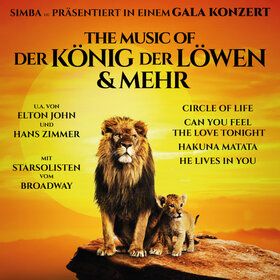 Die Welt von Simba, Mufasa, Timon und Pumba kannst du mit The Music of Der König der Löwen 2020 und 2021 live erleben! Sichere dir jetzt Tickets mit Reservix lass dir diese mitreißende Performance nicht entgehen.

"Der König der Löwen" zählt zu den kommerziell erfolgreichsten Zeichentrickfilmen aller Zeiten. Nun bringt The Music of Der König der Löwen Song-Klassiker wie "The Circle of Life", "Can You Feel The Love Tonight" und "Hakuna Matata" auf die Bühne.

Bei The Music of Der König der Löwen dürfen sich die Besucherinnen und Besucher nicht nur auf den Soundtrack von Komponist Hans Zimmer freuen: Interpretationen aus dem gleichnamigen Musical von Elton John und Tim Rice und der Titelsong von Beyoncé aus der animierten Version von 2019 wird es ebenfalls zu hören geben. Auch das Lied "Dir gehört mein Herz" aus dem Tarzan-Soundtrack von Phil Collins wird performt. Was sich wie eine wilde Mischung anhört, entpuppt sich als unglaublich harmonisches Ganzes. Doch es bleibt nicht nur bei einem musikalischen Feuerwerk, weitere Elemente machen das Gala-Konzert zu einem absoluten Highlight. So werden unter anderem Starsolisten vom Broadway dabei sein, die dem Abend eine besondere Finesse verleihen.

Eine Vorstellung von The Music of Der König der Löwen ist mit all ihren grandiosen Musikerinnen und Musikern ein unglaubliches Spektakel. Genieße die Musik des atemberaubenden Films bei der großen Deutschlandtour!
Source: Reservix