The Man Who Grew Common in Wisdom + Fire
Deborah Hay &nbsp
Sophienstraße 18
10178
Berlin
Tickets from €27.50
Concessions available
Event organiser: HAU - Hebbel am Ufer, Stresemannstraße 29, 10963 Berlin, Deutschland
Information on concessions
- Ermäßigte Karten gelten für Schüler*innen, Studierende, Jugendliche im Freiwilligendienst, Sozialhilfe- oder Arbeitslosengeld-Empfänger*innen, Inhaber*innen eines Schwerbehindertenausweises, Grundwehrdienstleistende, Auszubildende sowie Empfänger*innen nach dem Asylbewerberleistungsgesetz und sind nur mit einem Nachweis gültig. Bitte halten Sie diesen am Einlass bereit.
- Karten mit Tanzcard-Ermäßigung gelten nur in Verbindung mit einer gültigen Tanzcard.
_________________________________________

- Discount tickets are available for students, young people doing voluntary civil or military service, welfare recipients, recipients of unemployment services, disabled persons with identification, work trainees, those receiving assistance in the context of asylum. Discounts available only with a valid ID and corresponding proof.
- Tickets with a Tanzcard discount are available only on presentation of a valid Tanzcard.
Event info
The Man Who Grew Common in Wisdom (1989/2019)
In diesem dreiteiligen Solo mache Deborah Hay die Einfachheit beredt, schrieb die New York Times 1989 über "The Man Who Grew Common in Wisdom". Weisheit ist bei Hay eine greifbare Erfahrung, sich in der alltäglichen Welt wohlzufühlen. Die Trilogie umfasst "The Navigator", "The Gardener" und "The Aviator". Eva Mohn, die außergewöhnliche Cullberg-Tänzerin, wurde von Hay trainiert und wird denTanz performen.

Fire (2000/2019)
Es ist fast unmöglich, den Tänzer*innenkörper und seine Bewegungen unvoreingenommen zu lesen – ebenso wie die Wahrnehmung des Elements Feuer immer schon eingebettet ist in andere, vorangegangene Erfahrungen. Ros Warbys Adaption von "Fire" ist Teil des innovativen "Solo Performance Commissioning Project", das von 1998 bis 2012 stattfand. In diesem Zeitraum unterrichtete Hay 20 Tänzer*innen ein jährlich wechselndes Solo, welches diese in Folge täglich für mindestens drei Monate trainierten, um ihre eigene Adaption zu finden. Warbys Adaption von "Fire" brachte Hay dazu, ihre eigene Karriere zu überdenken, um mit Tänzer*innen von ebensolcher Intelligenz, Humor und Raffinesse zusammenzuarbeiten.
________________________________________________________________________________________

The Man Who Grew Common in Wisdom (1989/2019)
Deborah Hay makes simplicity eloquent in her three-part solo, said the New York Times in 1989 about "The Man Who Grew Common in Wisdom". For Hay, wisdom becomes the tangible experience of well-being within the ordinary world. The trilogy is comprised of "The Navigator", "The Gardener" and "The Aviator". Eva Mohn, an exceptional dancer from Cullberg, has been coached by Hay and will perform the dance.

Fire (2000/2019)
It is almost impossible to read the dancer's body and its movements impartially – just as the perception of the element of fire is always embedded in other, previous experiences. Ros Warby's adaptation of "Fire" is a result of Hay's innovative "Solo Performance Commissioning Project", which took place from 1998 through 2012. Each year Hay taught 20 dancers the same solo, a different solo each year. The dancers, for a minimum of the next three months, found their own adaptation through their daily practice of the dance. Warby's adaptation of "Fire" convinced Hay to alter her own career and work with dancers with similar intelligence, homour and subtlety.
Location
Sophiensaele
Sophienstr. 18
10178 Berlin
Germany
Plan route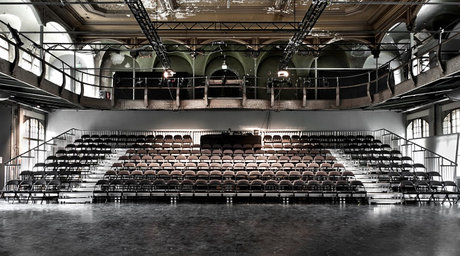 In Berlin hat sich eine Bühne durch ihr Programm zu einer wichtigsten Produktionsorte für freies Theater im deutschsprachigen Raum entwickelt: Die Sophiensäle. Hier findet ein Dialog zwischen Theater, Tanz, Musik und anderen Formaten statt.

Anfang des vergangenen Jahrhunderts waren die Räumlichkeiten noch in Besitz des Handwerkervereins. Erst in den 1990er Jahren schufen unter anderem Sasha Waltz und Jochen Sandig einen Ort für kreativen Austausch. Das Konzept der Veranstalter legt Wert auf die Begegnung von Künstlern und Zuschauern. Mit jährlich etwa 60 Produktionen und mehreren Festivals bieten die Sophiensäle genügend Möglichkeiten, neue Theaterformen zu entdecken und auszuprobieren. Und so entstehen einzigartige Projekte wie die "Tanztage Berlin" und "Freischwimmer – Neues aus Theater, Performance und Live Art". Die Sophiensäle sind mehr als eine Performance-Location. Die Veranstalter sehen das Haus als einen einzigartigen Rahmen für künstlerische Produktion und Begegnung.

Mit ihrem innovativen Programm und dem wunderschönen Ambiente gehören die Sophiensäle schon längst nicht mehr zu den Geheimtipps Berlins. Sie sind wichtiger Bestandteil der deutschen Theaterlandschaft.