Rescheduled
Previous date:
The LineWalkers - Johnny Cash Tribute Band
The LineWalkers &nbsp
Bahnhofstraße 41
32105
Bad Salzuflen
Event organiser:
Daubel Events, Bahnhofstr. 41, 32105 Bad Salzuflen, Deutschland
Event info
Die Band verspricht eine mitreißende Live-Show, die mit Songs wie Walk The Line, Get Rhythm und Folsom Prison Blues alles das enthält, was Fans und Freunde des King of Country erwarten. Sogar der Nine-Inch-Nails-Song Hurt, den Johnny Cash ein Jahr vor seinem Tod mit einer einzigartigen zerbrechlichen Interpretation zu seinem eigenen Song gemacht hat, zählt zum LineWalkers-Programm. Mit Spielfreude, einer großen Liebe selbst zu kleinen Details und der stimmlichen Nähe zum Original möchte die Band eine Authentizität versprühen, die den Funken der Begeisterung sofort überspringen lässt. Und nicht erst bei Ring of Fire. So werden die Auftritte zu einem Fest zwischen Musikern und Publikum.
Event location
Bahnhof Bad Salzuflen
Bahnhofstraße 41
32105 Bad Salzuflen
Germany
Plan route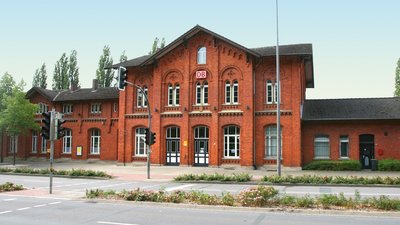 Künstler aus der ganzen Welt geben sich im Bahnhof Bad Salzuflen die Klinke in die Hand und machen die Location zu einer der Beliebtesten im nordrhein-westfälischen Heilbad Bad Salzuflen. Seit 2008 haben hier bereits mehr als 100 kulturelle Events stattgefunden, die ein vielseitiges und umfangreiches Programm versprechen.

Inmitten der Kurstadt Bad Salzuflen, direkt am Bahngleis, bietet der Bahnhof den perfekten Rahmen für Konzerte, Lesungen, Kabarettaufführungen oder Partys. Bis zu 500 Personen können in den vier separaten Räumlichkeiten LOKation, Bahnhofshalle, Bistro und Wartesaal Platz nehmen und sich in der stimmungsvollen Atmosphäre rundum wohlfühlen und genießen. Moderne Veranstaltungstechnik und ein abwechslungsreiches gastronomischen Angebot erfüllen jeden Wunsch.

Aus ganz Ostwestfalen pilgern zahlreiche Kulturliebhaber und Feierwütige nach Bad Salzuflen, um in dieser Trend-Lokalität grandiose und unvergessliche Momente zu erleben. Machen auch Sie sich auf und lassen Sie sich von Musik, Stimmung und Ambiente im Bahnhof Bad Salzuflen begeistern.