The Jets - Better than ever Tour 2020
Marktplatz 1
97437
Haßfurt
Tickets from €12.00
Concessions available
Event organiser: Kulturamt Haßfurt, Bahnhofstraße 2, 97437 Haßfurt, Deutschland
Information on concessions
50 % Ermäßigung auf den Eintrittspreis bekommen Personen und deren Begleitperson mit einem Behindertenausweis B mit GdB 100 und dem Merkzeichen G oder H oder GI oder aG.
Rollstuhlfahrer zahlen den normalen Preis, eine Begleitperson erhält freien Eintritt. Bitte wenden Sie sich an das Kulturamt Haßfurt live Tel. 09521 688228.

Gutscheine vom Kulturamt Haßfurt live,sind ausschließlich für Veranstaltungen des Kulturamtes und können beim Kulturamt Haßfurt live und beim Haßfurter Tagblatt eingelöst werden.
Event info
The Jets-Better than ever Tour 2020
Am Samstag den 29.02.2020 um 20.30 Uhr gastieren The Jets in Rahmen ihrer Better than ever Tour in der Rathaushalle in Haßfurt.
Die Meister in Sachen Oldies spielen Rockklassiker der 60er bis 80er Jahre, die beim Publikum ankommen. Musik die nicht nur ins Ohr, sondern auch ins Tanzbein fährt.
Besetzung: Jerry James (Gesang), Steve Hyde (Gesang, Gitarre), Tuncay Tercanli (Schlagzeug, Gesang), Steve Chapple (Gesang, Gitarre), Garry Reck (Gesang, Keyboard).
Location
Rathaus Haßfurt
Marktplatz 1
97437 Haßfurt
Germany
Plan route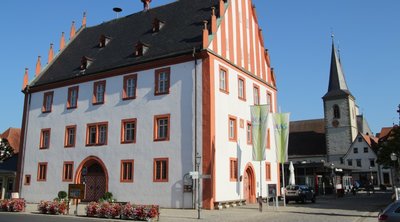 Für Veranstaltungen im unterfränkischen Haßfurt steht im Herzen der Stadt das Alte Rathaus zur Verfügung. Im Erdgeschoss befindet sich die historische Rathaushalle, die für Events jeglicher Art, von Ausstellungen über private Festivitäten bis hin zu künstlerischen Darbietungen, Platz bietet. Bis zu 180 Besucher können hier in stilvollem Ambiente ganzjährlich kulturelle Veranstaltungen genießen.

Die stilvolle und rustikale Rathaushalle ist mit einer Ausschanktheke und einem Küchenbereich ausgestattet, die für das leibliche Wohl bei den Veranstaltungen sorgen. Auf Grund der guten Lage inmitten der Stadt, kann das Rathaus sowohl zu Fuß als auch mit dem PKW leicht erreicht werden.