THE HOOTERS - 20+20 - 40th anniversary tour
Fabrikstrasse 10
64625
Bensheim
Event organiser: Musiktheater Rex, Fabrikstraße 10, 64625 Bensheim, Deutschland
Information on concessions
Keine Ermäßigungen!
Begleitpersonen für Rollstuhlfahrer haben freien Eintritt und benötigen kein zusätzliches Ticket.
Keine Ermäßigungen für Begleitpersonen von Schwerbehinderten mit Merkzeichen B
Event info
Als THE HOOTERS 1980 erstmals in der Musikszene von Philadelphia auftauchen, erobern sie
mit rasanter Geschwindigkeit die East Coast. Ihre einzigartige Mischung aus Ska, Reggae und
Rock n Roll machen ihren frischen und kraftvollen Sound so erfolgreich. 1983 veröffentlichen
sie ihr erstes Independent-Album "Amore", das u. a. einen ihrer größten Hits "All You Zombies"
enthält.
Schon 1986 haben THE HOOTERS vier Hit-Singles in der Tasche und sind fast ununterbrochen
auf Tour. Ein Jahr zuvor noch recht unbekannt, teilt die Band nun die Bühnen mit Künstlern wie
U2, The Police, Bryan Adams, Lou Reed und Peter Gabriel.
1987 bringen THE HOOTERS "One Way Home" raus, auf dem der berühmte Hit "Johnny B" zu
finden ist. Weitere Alben folgen, und im Jahre 2000 kommt ihnen die Ehre von Ricky Martin
zuteil, der ihren Song "Private Emotion" covert.
Nach zahlreichen Tourneen, die sie über viele Jahre absolvierten, beschließen THE HOOTERS,
eine wohlverdiente Pause einzulegen und sich auf diverse Soloprojekte zu konzentrieren. Rob
Hyman und Eric Bazilian stellten ihre Talente sowohl als Musiker als auch als Songschreiber
anderen Künstlern zur Verfügung, darunter Taj Mahal, Mick Jagger, Willie Nelson, John Bon
Jovi, Robbie Williams, Cyndi Lauper ("Time after Time" war für mehrere Grammys nominiert)
und viele mehr.
Für ihre neue Tour zum 40 (!) jährigen Jubiläum habe THE HOOTERS eine besondere
Nachricht für ihre Fans:

We, The Hooters, are proud to announce "20 + 20", our 40th Anniversary tour! 
It´s hard to believe so much time has passed since our very first show in June 1980 at a small venue
near our hometown of Philadelphia, PA, USA. Since then, our fantastic ride together has surpassed
any of our hopes and dreams for our little rock-and-roll band. It has taken us from the "funkiest"
clubs of Philly to incredible trips around the world with concerts in Australia, Japan, Canada, and
most importantly Europe, where we found a loyal and enthusiastic audience starting in 1987 and
which continues to this day.
We are particularly excited to spend most of this 2020 Anniversary celebration with extended
summer tours in Germany, which has truly become a "second home" to our band. Not only do we
have such incredible fans in Deutschland but also now have great friends there and an amazing crew
who help us put this show on the road night after night.
So for that, we thank our German fans, friends, promoters and crew in advance and very much look
forward to sharing this wonderful milestone in our musical adventure - come get Hooterized!!
See you all soon...
-Rob, Eric, Dave, John, Fran & Tommy
November 2019.
Location
Musiktheater Rex - Kulturdenkmal Güterhalle
Fabrikstraße 10
64625 Bensheim
Germany
Plan route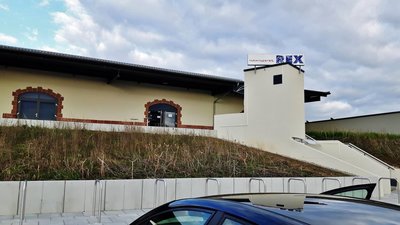 Das Musiktheater REX in Bensheim ist ein ganz besonderer Veranstaltungsort, denn dort können die Besucher fernab von Massenveranstaltungen eine intime Nähe zu der Bühne und somit auch zu den Künstlern erfahren. Am Ende der Auftritte ist es nicht ungewöhnlich, jene mit einem Getränk an der Bar anzutreffen und ein bisschen mit ihnen ins Gespräch zu kommen. Dieser kleine, aber feine Unterschied zu herkömmlichen Konzertstätten hat das Musiktheater zu einer wichtigen Kultureinrichtung in der Region gemacht.

Gegründet wurde das REX 1998 von Margit Gehrisch, seit 2015 ist der denkmalgeschützte Güterbahnhof von Bensheim die Heimat des beliebten Musiktheaters. Bis zu 600 kulturbegeisterte Besucher finden in den sanierten Räumlichkeiten des historischen Ortes einen Raum für sagenhafte Konzerte und können ihre Stars sogar fast wortwörtlich anfassen: Hier gibt es keinen Pressegraben, keinen VIP-Bereich und keinen Backstage-Bereich – die gemütliche Atmosphäre macht Hautnah-Erlebnisse möglich.

Das Musiktheater REX ist der Ort, an dem sich Menschen mit ihrer Liebe zu Live-Konzerten treffen, um gemeinsam unvergessliche Stunden zu erleben. Dank seiner Lage ist das REX wunderbar mit öffentlichen Verkehrsmitteln und dem Auto zu erreichen, Parkplätze stehen vor Ort teilweise kostenfrei zur Verfügung.