Zu Ihrer Sicherheit und der weiteren Eindämmung des Coronavirus finden alle Veranstaltungen unter Einhaltung der aktuellen gesetzlichen Vorschriften statt: Die jeweiligen Veranstalterinnen und Veranstalter tragen Sorge, dass die Hygienemaßnahmen stets überwacht und eingehalten werden.
Rescheduled
Previous date:
The Hex Dispensers - plus: Support
Brückenstr. 23
90419
Nürnberg
Event organiser:
DESI Stadtteilzentrum e.V., Brückenstr. 23, 90419 Nürnberg, Deutschland
Event info
Verschoben auf den 22.08.2022 - Die Europa-Tour musste aufgrund von COVID-19 verlegt werden.
Bereits gekaufte Tickets behalten ihre Gültigkeit - danke für euer Verständnis!

Catchy songs about death zu deutsch: Ohrwürmer über den Tod sind das Markenzeichen der HEX DISPENSERS aus Austin, Texas.
Gegründet am 6.6.2006 (666 – get it?) haben sie es geschafft mit drei gefeierten Alben in knapp 10 Jahren zu einer kleinen Kultband im Garage und Punk-Genre zu werden. Simple Songs a la Ramones, düster wie die Wipers und gruuuuuselig wie Misfits – und das ganz ohne affige Singalong-Parts und peinliches Make-Up. Eingängige Riffs auf runtergestimmten Gitarren, absolut markanter Gesang und eine Hitdichte wie sie heute selten geworden ist.
Urplötzlich kam vor eijn paar Jahren dann die Auflösung der Band und seitdem wurde es still um die Truppe.
Diesen Sommer kehren die HEX DISPENSERS noch ein allerallerletztes Mal für ganz wenige Konzerte nach Europa zurück. Das wird keine "jetztaberwirklich-Abschiedstour" wie sie alte Helden in regelmäßigen Abständen abliefern – wenn die Truppe wieder in den Staaten zurück ist, dann war es das. Schluss. Aus. Ende.

Die Show in Nürnberg ist das einzige Konzert in Süddeutschland!

https://thehexdispensers.bandcamp.com/

Reviews (in Auszügen)
"Much like Roky Erickson post-Rusk State mental hospital, Alex Cuervo´s local quartet clearly
equate the blue glow of black & white midnight TV creature screenings with whatever sick noise
courses through their heads. " (Austin Chronicle, Juli 2015)

"When you're a teenager you feel like a monster. Then you get older and you don't feel that way
unless you hate yourself/feel completely alienated from human society or, in some rare cases, you
are an actual monster, like, with horns and scales and whatnot. The Hex Dispensers make music for
both kinds of self-aware denizen of the night." (Noisey, Mai 2015)

"It's the sort of anthemic punk that doesn't deny the importance of catchy, pop hooks but rams
those into your eardrums with a three chord punk attack. " (Cult Nation, Mai 2015)

"Here's a fun thing to do. For every devil-locked spook who's taking themselves a wee bit too
seriously at their respective musical duties, I just imagine them with bright red noses, big-ass
shoes, and oversized ties. For every skeleton-handed glove, I imagine bright pink polka dots. If
you're asking me to willingly suspend belief that the Misfits never existed and what you're doing
has one iota of a creative spark, I might as well have fun with it. But the Hex Dispensers, although
they tread in the operatic darker lands of music's psyche, they do it with an Edward Gorey precision
and a Tales from the Crypt style of understanding of both blood spatters and the psychology of
titillating terror. They're both simultaneously paranoid and dance party of the apocalypsesounding,
filtered through the dark charcoal of years playing in small bars and backyards.
" (fasterandlouder, März 2015)

weitere Reviews:
http://www.aliensnatch.de/hexdispensers/hexdispensers_rev.htm
Videos
Event location
Stadtteilzentrum Desi e.V.
Brückenstrasse 23
90419 Nürnberg
Germany
Plan route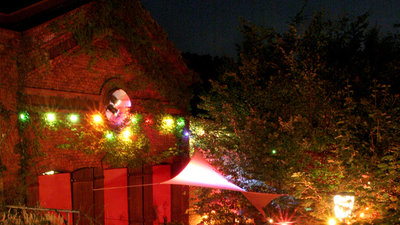 Der Verein Desi e.V. wurde 1978 gegründet. Das Hauptaugenmerk liegt auf Programm-, Flüchtlings- und Jugendkulturarbeit. Als selbstverwaltetes Zentrum verfolgt die Desi das Ziel, für alle Gruppen, Mitarbeiter und Besucher ein größtmögliches Maß an Selbstbestimmung zu erreichen. Die Desi bietet verschiedenen Gruppen Raum, sich zu treffen und ihre eigenen Vorstellungen bezüglich Kultur und Politik umzusetzen.

Etliche Vereinigungen und Initiativen finden in der Desi ihr Zuhause. Die Interessengemeinschaft Freie Flüchtlingsstadt Nürnberg, die 1986 aufgrund der damaligen rassistischen Wahlkampagne gegen Flüchtlinge gegründet wurde, wird genauso in dem Zentrum beherbergt, wie auch die Stelle für Jugendkulturarbeit eine Fahrradwerkstatt, die Desi-Kneipe und die Karawane, die sich für die Rechte von Flüchtlingen und Migranten einsetzt.

Im Rahmen des SommerNachtFilmFestivals flimmern außerdem jedes Jahr im August unter freiem Himmel Filme über die Leinwand. In der schönen Freiluftarena des Zentrums zeigt der Veranstalter des Festivals, das Mobile Kino e.V. an etwa zehn Terminen Filme, die abseits von Mainstream und Kommerz liegen. Dieses Kinoprogramm entwickelte sich über die Jahre von einem Geheimtipp zu einem beliebten Festival, das jährlich mehrere Tausend Zuschauer anlockt!