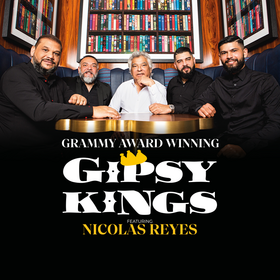 The Gipsy Kings gehen 2023 auf Deutschland-Tour! Live in Concert featuring Nicolas Reyes haben Sie jetzt die Möglichkeit, The Gipsy Kings und ihre größten Hits "Bamboléo", "Baila me" und "Bem Bem" zu erleben! Tickets sind ab sofort bei Reservix erhältlich.

Nicolas Reyes steht heute noch höchstpersönlich auf der Bühne. Die solistischen Einlagen von Reyes sind absolute Highlights und werden im Live-Mix mit den anderen Gitarristen zum echten Flamenco-Knaller mit Pop-Würze.

Bereits 1975 schlossen sich The Gipsy Kings zusammen. Bis zum großen Erfolg dauerte es jedoch noch einige Jahre, bis die Band Ende der 80er-Jahre mit Songs wie "Bamboléo" oder "Djobi Doba" so richtig durchstartete. Die achtköpfige Band eroberte zunächst den Mittelmeerraum, bevor der frische Wind mit Elementen aus Flamenco und Rumba mit Pop und Reggae dann schließlich in ganz Europa Wellen schlug. Ein unverkennbarer Stil und die Liebe zur Musik trieben die Brüder der Familien Reyes und Baliardo in den Folgejahren zu weiteren erfolgreichen Alben. Der Grammy Award 2014 für das beste Weltmusikalbum bedeutete endgültig Kultstatus für The Gipsy Kings.

Erleben Sie die Auftritte, die mit ihrem feurigen Klängen mitreißen, live und sichern Sie sich mit Tickets für The Gipsy Kings ein Stück Musikgeschichte. Diese Konzerte begeistern das Publikum und die bleiben lange in Erinnerung!
Source: Reservix