Event organiser: HAU - Hebbel am Ufer, Stresemannstraße 29, 10963 Berlin, Deutschland
Restkarten ggf. an der Abendkasse
Event info
Catherine Gaudet interessiert sich für subtile Verschiebungen des Körpers, für Mikrobewegungen, die verborgene Empfindungen sichtbar machen. In "The Fading of the Marvelous" verbindet die kanadische Choreografin rohe, präzise Körperlichkeit, dramatische Spannung und Groteske. Sie untersucht die universale Struktur von Kreisen, um tiefe menschliche Erfahrungen zu entdecken: In der zugleich strengen und sinnlichen Choreografie durchlaufen fünf Tänzer*innen beständige Transformationen, die sich, begleitet und getrieben von hypnotischen Beats, bis zur Ekstase steigern.
________________________________________________________________________________________

Catherine Gaudet is interested in subtle shifts in the body, micro movements that make hidden feelings visible. In "The Fading of the Marvelous" the Canadian choreographer combines raw, precise physicality, dramatic tension and the grotesque. She investigates the universal structure of circles to discover deep human experiences. The strict but sensuous choreography is accompanied and driven by hypnotic beats as five dancers undergo continual transformations to the point of ecstasy.
Location
HAU2
Hallesches Ufer 32
10963 Berlin
Germany
Plan route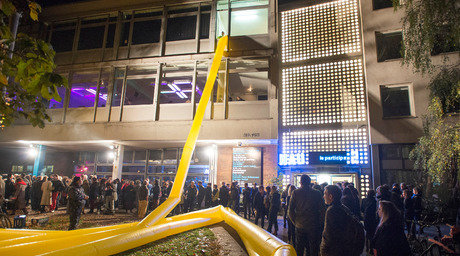 In der Spielzeit 2003/2004 haben sich drei selbstständige Bühnen zu einer neuen, einzigartigen Theaterinstitution zusammengefügt. Das Hebbel-Theater, das Theater am Halleschen Ufer und das Theater am Ufer bilden nun das "Hebbel am Ufer", kurz "HAU".

Hier weht ein frischer Wind, besonders in Person von Annemie Vanackere. Die Belgierin ist seit 2012 Intendantin des Hauses und hat sich voll und ganz der Kunst verschrieben. Sie steht für das Unkonventionelle und sammelte bereits in Gent sowie an der Schouwburg in Rotterdam Erfahrungen in der freien Theaterszene. Sie versteht das Theater als Freiraum, in dem Kunst und Ästhetik jegliche Form der Funktionalität überwinden, wodurch festgefahrene Strukturen und Denkmuster aufgebrochen werden können.

Innovation ist der kreative Motor des Theaters. Das HAU steht allerdings ebenso für Tradition: Sowie das Hebbel-Theater für internationale Gastspiele bekannt war, soll auch das Hebbel am Ufer eine Spielstätte für Künstler aus der ganzen Welt sein. So vielfältig und verschieden wie die beteiligten Akteure, ist daher auch das Programm, welches aus Theater, Tanz, Performance, Musik und Bildender Kunst besteht.