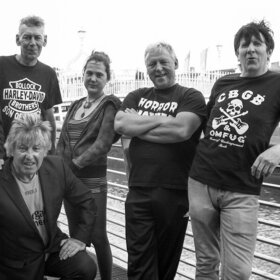 The Bollock Brothers - Support The Clox
Lütgendortmunderstraße 43
44388
Dortmund
Event organiser: 3dog Entertainment oHg, Ottostraße 2, 44147 Dortmund, Deutschland
Information on concessions
Rollstuhlfahrer / Schwerbehinderte (mit "B" im Ausweis) zahlen den normalen Preis. Deren Begleitung erhält freien Eintritt.
Event info
2019 sind The Bollock Brothers wieder auf Tour. In ihrer Musik vereint die Band Rock mit Einflüssen aus Punk und Pop. Mit über 40 Jahren Erfahrung stehen die Londoner auf der Bühne und bringen die Fans mit ihrem Sound und der unverwechselbaren Stimme von Frontmann McDonald zum Abgehen! Sichert euch jetzt eure Tickets und erlebt The Bollock Brothers live!
Location
Musiktheater Piano
Lütgendortmunder Straße 43
44388 Dortmund
Germany
Plan route
Einstmals stand in der Lütgendortmunder Straße 43 das traditionelle Gasthaus "Zum Deutschen Haus". 100 Jahre später wurde daraus das Musiktheater Piano, in dem regelmäßig Konzerte und Kleinkunstformen der besonderen Art auf die Bühne kommen.

Das Theater liegt im Viertel Lütgendortmund und erscheint von außen unspektakulär. Es erinnert an eine typische Eck-Wirtschaft aus dem letzten Jahrhundert. Die abgewetzte Fassade und ein vergilbtes Schild über dem Eingang lenken die Gäste ins Innere der Location. Hier findet man sich plötzlich in einem wunderschönen Jugendstil Café wieder, welches das Foyer des Musiktheaters ausmacht. Schmuckvolle Holzvertäfelungen und ein lichtdurchflutetes Ambiente laden ein, sich vor der Veranstaltung für einen Sekt niederzulassen. Durch ein hohes Portal geht es in den Bühnenraum, der zwar weniger schmuckvoll als das Foyer ist, dafür aber ausreichenden Platz zum Tanzen und Schunkeln bietet.

"Das Piano", wie die Dortmunder ihr Musiktheater liebevoll nennen, ist 15 Gehminuten vom S-Bahnhof Lütgendortmund entfernt. Da die Location in einem verkehrsberuhigtem Wohngebiet liegt, sind die Parkplatzmöglichkeiten rar.