tAKiDA
& Special Guests &nbsp
Joseph-Belli-Weg 5-9
78467
Konstanz
Event organiser: Kulturladen Konstanz, Joseph-Belli-Weg 5, 78467 Konstanz, Deutschland
Event info
Robert Pettersson, Tomas Wallin, Mattias Larsson, Chris Rehn och Kristoffer Söderström are the brilliant minds who together form one of the largest bands ever to be conceived in Sweden - Takida. 

Shortly after Takida was formed, in 1999, the band recorded a couple of demos, which led to a record deal and the release of their debut album "Make You Breathe" in 2006, which was the band's big breakthrough. The follow up album was released the next year and contained the hit single "Curly Sue". The rest, as you usually say, is history.

They have, since the debut in 2006, managed to establish themselves as a force to be reckoned with and one of the biggest rock acts in Scandinavia. 2018 marked the beginning of a new chapter in Takida's career, when they joined forces with record label BMG and released the single "Master". The collaboration has resulted in the band's, thus far, biggest international success with sold-out shows and a rapidly increasing fan base, mainly in Germany.

After an intense recording period in the studio, Takida is now more prepared than ever to follow up on the success with two new singles and then finally celebrate the break of summer 2019 with the new album "Sju". That this promises another year of success for Takida, is nothing short of a fact.
Videos
Location
Kulturladen Konstanz
Joseph-Belli-Weg 5
78467 Konstanz
Germany
Plan route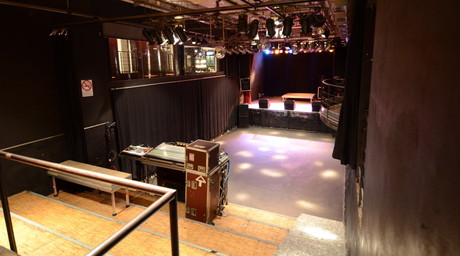 Der Kulturladen in Konstanz, kurz Kula genannt, ist ein soziokulturelles Zentrum im Herzen Konstanz. Getragen wird das Kula durch den gemeinnützigen Verein Kulturladen e.V, der sich seit über 30 Jahren um die kulturellen Bedürfnisse der Bodenseeregion kümmert.

Erstmalig eröffnet wurde der Kulturladen 1983 im ehemaligen Offizierscasino der Cherisykaserne. Anfänglich als Hobby einiger Musikfreunde gestartet, ist der Kulturladen heutzutage ein beliebter Club, der durch professionelle Strukturen schon längst fester Bestandteil der Konstanzer Clubszene geworden ist. In den Jahren 1995/96 erfolgte ein Umzug in neue Räume: der ehemalige Heizraum der Cherisykaserne bietet bis heute dem Kulturladen ein Zuhause. Nach dem Motto Qualität vor Quantität, können die Veranstalter stets Künstler für sich gewinnen, die sich weniger durch Massengeschmack als durch musikalische Qualität auszeichnen. So spielten bereits Rammstein, Fettes Brot oder La Brass Banda in den Räumlichkeiten des Kulturladens, noch bevor sie ihren kommerziellen Durchbruch feiern konnten. Der ehemalige Heizungskeller der Kaserne dient dabei als Veranstaltungssaal und bietet Platz für 500 Leute. Durch die multifunktionale Ausstattung ist der Raum flexibel einsetzbar.

Der Kulturladen Konstanz kann als selbstverwaltetes soziokulturelles Zentrum auf eine lange Geschichte zurückblicken. Ein Besuch im Kulturladen ist auf jeden Fall ein Muss!