Zu Ihrer Sicherheit und der weiteren Eindämmung des Coronavirus finden alle Veranstaltungen unter Einhaltung der aktuellen gesetzlichen Vorschriften statt: Die jeweiligen Veranstalterinnen und Veranstalter tragen Sorge, dass die Hygienemaßnahmen stets überwacht und eingehalten werden.
Suppe & Mukke - mit DJ Flö und den Pirates Of Love & Bangers and Mash
Pirates Of Love, DJ Flö, Bangers and Mash &nbsp
Am neuen Rheinhafen 6
67346
Speyer
Event organiser:
New Evil Music, Kallstadter Strasse 34, 68549 Ilvesheim, Deutschland
Information on concessions
Die hier bestellten Vorverkaufskarten werden Euch von unserem Kooperationspartner reservix zugesandt. Bei Fragen zu Bestellungen und Zahlungen ist reservix auch Euer erster Ansprechpartner: 0180 60 50 400 (0,20 €/Anruf inkl. MwSt. aus den Festnetzen, max. 0,60 €/Anruf inkl. MwSt. aus den Mobilfunknetzen).

Rollstuhlfahrer und Menschen mit Behinderung mit "B" im Ausweis zahlen den Normalpreis, die Begleitperson ist frei und benötigt kein eigenes Ticket.
Event info
... mit DJ Flö
und den Pirates Of Love & Bangers and Mash
Fr. 02.12.2022 / Halle 101 Speyer
Einlass 19:00 Uhr / Konzertbeginn 20:00 Uhr
TICKETS / Infos: www.reservix.de
#meinevent #NewEvilMusic

Suppe & Mukke in der Halle 101 Speyer
Was braucht es für einen gelungenen Abend?

Livemusik
ein guter DJ
Leckere Drinks und gutes Essen
Unsere Veranstaltungsreihe Suppe & Mukke legt einen Restart hin.

Ein toller Abend mit DJ Flö, der sich regionale Livebands als Unterstützung holt.
Unser Küchenchef Chris zaubert dazu leckere Suppen, damit der Abend auch kulinarisch etwas Besonderes wird!
Event location
Halle 101 Speyer
Am neuen Rheinhafen 6
67346 Speyer
Germany
Plan route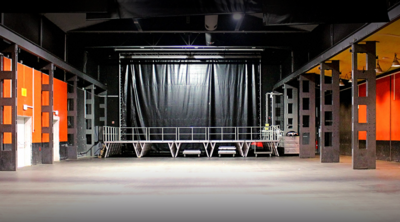 Direkt am Rhein gelegen, mit großem Parkplatz und bester Anbindung an öffentliche Verkehrsmittel, bereichert die Halle 101 Speyer seit vielen Jahren das breitgefächerte Kulturprogramm der Region.

Mittelpunkt der Location ist die Veranstaltungshalle, die - genau wie das weitläufige Außengelände - Platz für bis zu 1000 Besucher bietet.

Als Kulturzentrum der Stadt Speyer, mit vielfältigen Angeboten für Menschen aller Generationen, bietet die Halle 101 Speyer ein abwechslungsreiches Kulturprogramm und gilt deshalb seit vielen Jahren als eine der angesagtesten Event-Locations der Metropolregion Rhein-Neckar.

Kultur, Toleranz und Lebenslust.