Um bestmöglich für Ihre Sicherheit zu sorgen, wurden alle Veranstaltungen unseres Angebots mit den vorgeschriebenen Corona-Schutzmaßnahmen freigegeben. Dazu gehören beispielsweise Lüftungskonzepte oder Abstandsregelungen.
Abgesagt
Bisheriges Datum:
STATUS QUO & Manfred Mann`s Earth Band - Backbone Tour 2020
Siegburger Str. 15
40591
Düsseldorf
Event organiser:
Hockeypark Betriebs GmbH & Co. KG, Am Hockeypark 1, 41179 Mönchengladbach, Deutschland
Die Veranstaltung wurde abgesagt.
Event info
"It is with great reluctance that we are forced to announce the cancellation of the forty date UK and European tour that was planned for October, November and December 2020 in support of the 'Backbone' album release. This is in line with public health requirements and advice relating to Covid-19. Due to various commitments for next year, the band are unable to reschedule these shows for 2021. This cancellation is not what the band wanted, but they are very mindful of the wellbeing of band, audience and crew. Despite the fact that many shows have already sold out, an outright cancellation will allow our valued fans to receive a refund on tickets purchased. Quo is a band largely defined by their live performances and we cannot wait for the next time that we can perform safely, securely – and loudly!"
Location
Mitsubishi Electric Halle
Siegburger Straße 15
40591 Düsseldorf
Germany
Plan route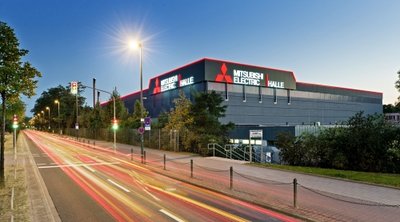 Seit den Siebzigern kommen jährlich Tausende Menschen in die Mitsubishi Electric Halle, um rasante Sportveranstaltungen, rockige Konzerte oder Showevents zu erleben. Die Mehrzweckhalle unweit der Düsseldorfer Altstadt ist eines von zehn Veranstaltungshäusern des Düsseldorf Congress Sport & Event Unternehmens.

Die Philips Halle, wie sie ursprünglich hieß, wurde 1971 fertiggestellt und steht seit mehr als vier Jahrzehnten für Unterhaltung der Spitzenklasse. Seit 2011 ist nun schon der Mitsubishi Konzern Namensgeber des Veranstaltungszentrums. Alle möglichen Events können hier problemlos abgehalten werden und locken viele Besucher zu Musicals, Konzerten aller Genres, Sportturnieren oder Theater- und Showaufführungen nach Düsseldorf. Durch die exzellente Technik werden hier auch erfolgreiche Meetings, Versammlungen und Bankette möglich.

Die Mitsubishi Electric Halle bietet bis zu 7.500 Gästen Platz, die bequem mit dem Auto, per Bahn oder der S-Bahn anreisen können. Generationen von Konzertbesuchern standen hier in den letzten Jahren schon Schlange und auch unter neuem Namen wird sich daran nichts ändern!