Spotlight | Scheherazade
Alain Altinoglu, hr-Sinfonieorchester &nbsp
Opernplatz 1
60313
Frankfurt am Main
Tickets from €27.00 *
Concession price available
Event organiser:
Hessischer Rundfunk, Bertramstr. 8, 60320 Frankfurt am Main, Deutschland
Event info
Scheherazade

Alain Altinoglu
beleuchtet und präsentiert:

Nikolaj Rimskij-Korsakow | Scheherazade


Wer kennt nicht die Märchen aus »1001 Nacht«? Und wer kennt nicht ihre zentrale Erzählerin, der Rimskij-Korsakow ein von orientalischen Farben und Stimmungen erfülltes Denkmal setzte? In diese Musik einzutauchen und sie tiefer zu erleben, verspricht Chefdirigent Alain Altinoglu im »Spotlight«-Gesprächskonzert. In der 1888 entstandenen sinfonischen Suite folgt der Hörer in vier Sätzen den Erzählungen Scheherazades. Nur eine kleine Auswahl der 1001 Märchen hat Nikolaj Rimskij-Korsakow dabei in der Musik direkt vertont. Das musikalische Material wird zugleich durch alle Sätze hindurch einem virtuosen Motivspiel unterworfen: »Indem die Motive und Themen jedes Mal in verschiedenen Farben, Formen und Stimmungen erscheinen, entsprechen sie immer verschiedenen Vorstellungen, Handlungen oder Bildern«, eröffnete der große russische Romantiker einst selbst in seiner Autobiografie zu seiner »Scheherazade«.

Konzertdauer: ca. 85 Minuten
___________

Who does not know the fairy tales from »1001 Nights«? And who does not know its central narrator, to whom Rimsky-Korsakov set a monument filled with oriental colors and moods? Immersing yourself in this music and experiencing it more deeply is what Music Dircctor Alain Altinoglu promises in the »Spotlight« talk concert. In the symphonic suite composed in 1888, the listener follows the tales of Scheherazade in four movements. Only a small selection of the 1001 Fairy Tales was directly set to music by Nikolai Rimsky-Korsakov. Throughout all movements, the musical material is subjected to a virtuoso play of motifs: »By appearing each time in different colors, forms and moods, the motifs and themes always correspond to different ideas, actions or images,« the great Russian Romantic once himself revealed in his autobiography about his »Scheherazade«.

Concert duration: about 85 minutes
Event location
Alte Oper
Opernplatz 1
60313 Frankfurt am Main
Germany
Plan route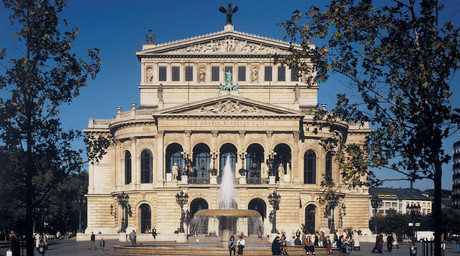 Mitten in der Frankfurter Innenstadt steht die "Alte Oper Frankfurt". Sie lockt mit Konzerten und Veranstaltungen der Spitzenklasse. Künstler wie Martha Argerich, Alfred Brendel oder Hélène Grimaud, sowie die "Berliner Philharmoniker" sind hier schon aufgetreten.

Seit 1880 bietet die "Alte Oper Frankfurt" Raum für Musik und Feste. Daran konnten auch "Dynamit-Rudi´s" Pläne, das Gebäude in die Luft zu sprengen, nichts ändern. Und seit der Eröffnung zieht die Oper prominente Künstler und Gäste an. Kaiser Wilhelm der 1. kam zur Eröffnung zu Besuch und Carl Orffs "Carmina Burana" wurde hier 1937 uraufgeführt. Und so hat sich zwischen den Bürotürmen ein wichtiges Stück Stadtgeschichte gehalten. Dem Schriftzug über dem Eingang "Dem Wahren, Schönen, Guten" entsprechend, ist die "Alte Oper Frankfurt" ein Garant für ein tolles Programm und unvergessliche Konzertabende. Der große Saal bietet mit 2500 Sitzplätzen genug Platz für große Konzerte, der "Mozartsaal" schafft mit 700 Plätzen eine intimere Atmosphäre.

Die "Alte Oper Frankfurt" ist eine feste Kulturinstitution. Sie genießt weit über das Rhein-Main-Gebiet einen sehr guten Ruf. Hier wird Kunst perfektioniert.