Spotlight | Planeten-Welten
Hugh Wolff, Matthias Maurer, hr-Sinfonieorchester &nbsp
Opernplatz 1
60313
Frankfurt am Main
Tickets from €27.00 *
Concession price available
Event organiser:
Hessischer Rundfunk, Bertramstr. 8, 60320 Frankfurt am Main, Deutschland
Event info
Planeten-Welten

ESA-Astronaut Matthias Maurer im Gespräch mit »WeltraumWagner«
Hugh Wolff | Dirigent

Gustav Holst | Die Planeten


Astronomie und Astrologie im »Spotlight«-Gesprächskonzert. ESA-Astronaut Matthias Maurer und Weltraum-Experte Dirk Wagner bringen Licht in die verborgenen Welten unseres Sonnensystems und führen mit Hugh Wolff und dem hr-Sinfonieorchester durch die berühmte Planeten-Suite von Gustav Holst – jenem mystisch-klangmächtigen Orchester-Zyklus. Mit ihm war dem Engländer Anfang des 20. Jahrhunderts der musikalische Aufbruch ins Universum gelungen. Und er lieferte zugleich die Vorlage für alles, was wir bis heute mit dem Weltraum gemeinhin musikalisch verbinden. In den sieben Charakterbildern seiner Sinfonischen Suite hat Holst eine klingende astrologische Ausdeutung aller Planeten unseres Sonnensystems geschaffen – vom »Mars, der Bringer des Krieges« bis zu »Uranus, der Magier« und »Neptun, der Mystiker«. Im »Spotlight« ist dabei nicht nur die legendäre Musik zu erleben und näher kennenzulernen, sondern man erfährt aus berufenem Mund zugleich auch Interessantes über die Planeten und den Weltraum selbst.

Konzertdauer: ca. 90 Minuten
___________

Astronomy and astrology in the »Spotlight« talk concert. ESA astronaut Matthias Maurer and space expert Dirk Wagner shed light on the hidden worlds of our solar system and, together with Hugh Wolff and the Frankfurt Radio Symphony, guide us through the famous Planet Suite by Gustav Holst – that mystical, sonically powerful orchestral cycle. With this work, the Englishman succeeded in setting off into the universe at the beginning of the 20th century. At the same time, it provided the template for everything that we still associate musically with outer space. In the seven character images of his symphonic suite, Holst created a sounding astrological interpretation of all the planets of our solar system – from »Mars, the Bringer of War« to »Uranus, the Magician« and »Neptune, the Mystic«. In this »Spotlight« concert you can not only experience and get to know the legendary music, but you can also learn interesting facts about the planets and the outer space themselves.

Concert duration: about 90 minutes
Event location
Alte Oper
Opernplatz 1
60313 Frankfurt am Main
Germany
Plan route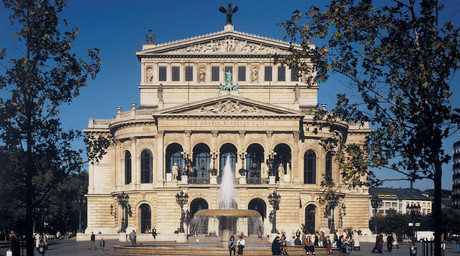 Mitten in der Frankfurter Innenstadt steht die "Alte Oper Frankfurt". Sie lockt mit Konzerten und Veranstaltungen der Spitzenklasse. Künstler wie Martha Argerich, Alfred Brendel oder Hélène Grimaud, sowie die "Berliner Philharmoniker" sind hier schon aufgetreten.

Seit 1880 bietet die "Alte Oper Frankfurt" Raum für Musik und Feste. Daran konnten auch "Dynamit-Rudi´s" Pläne, das Gebäude in die Luft zu sprengen, nichts ändern. Und seit der Eröffnung zieht die Oper prominente Künstler und Gäste an. Kaiser Wilhelm der 1. kam zur Eröffnung zu Besuch und Carl Orffs "Carmina Burana" wurde hier 1937 uraufgeführt. Und so hat sich zwischen den Bürotürmen ein wichtiges Stück Stadtgeschichte gehalten. Dem Schriftzug über dem Eingang "Dem Wahren, Schönen, Guten" entsprechend, ist die "Alte Oper Frankfurt" ein Garant für ein tolles Programm und unvergessliche Konzertabende. Der große Saal bietet mit 2500 Sitzplätzen genug Platz für große Konzerte, der "Mozartsaal" schafft mit 700 Plätzen eine intimere Atmosphäre.

Die "Alte Oper Frankfurt" ist eine feste Kulturinstitution. Sie genießt weit über das Rhein-Main-Gebiet einen sehr guten Ruf. Hier wird Kunst perfektioniert.