Situation Rooms - Deutsch oder Englisch
Rimini Protokoll (Haug/Kaegi/Wetzel) &nbsp
Hallesches Ufer 32
10963
Berlin
Tickets from €22.00
Concessions available
Event organiser: HAU - Hebbel am Ufer, Stresemannstraße 29, 10963 Berlin, Deutschland
Information on concessions
- Ermäßigte Karten gelten für Schüler*innen, Studierende, Jugendliche im Freiwilligendienst, Sozialhilfe- oder Arbeitslosengeld-Empfänger*innen, Inhaber*innen eines Schwerbehindertenausweises, Grundwehrdienstleistende, Auszubildende sowie Empfänger*innen nach dem Asylbewerberleistungsgesetz und sind nur mit einem Nachweis gültig. Bitte halten Sie diesen am Einlass bereit.
- Karten mit Tanzcard-Ermäßigung gelten nur in Verbindung mit einer gültigen Tanzcard.
_________________________________________

- Discount tickets are available for students, young people doing voluntary civil or military service, welfare recipients, recipients of unemployment services, disabled persons with identification, work trainees, those receiving assistance in the context of asylum. Discounts available only with a valid ID and corresponding proof.
- Tickets with a Tanzcard discount are available only on presentation of a valid Tanzcard.
Event info
Mai 2011, ein Foto geht um die Welt: Es zeigt 13 Personen in einem Raum. Der Ausdruck ihrer Gesichter spricht Bände: Triumph, Faszination, Hohn, Entsetzen, Skepsis, Geschäftigkeit. Der Schnappschuss aus dem "Situation Room" im Weißen Haus dokumentiert das Ende einer Menschenjagd, die mit allen verfügbaren Waffen geführt wurde.
Situation Rooms versammelt 20 Menschen aus mehreren Kontinenten, deren Biografien von Waffen mitgeschrieben wurden in einem Filmset, in dessen Räumen die globalisierte Welt der Pistolen und Panzerfäuste, der Sturmgewehre und Drohnen, der Regierenden und Flüchtenden nachgebaut wurde und so zu einem Parcours unerwarteter Nachbarschaften und Kreuzungen wird.
 Mit den einzelnen Erzählungen der "Bewohner" setzen sich auch die Bilder in Bewegung – und die Zuschauer folgen der individuellen Fährte der ausgehändigten Kameras und fangen ihrerseits an das Gebäude zu bewohnen, während sie dem folgen, was sie auf ihrem Gerät sehen und hören. Der Besucher sitzt diesem Stück nicht gegenüber, um es von außen zu betrachten und zu beurteilen, sondern verstrickt sich selbst in ein Netz von Begebenheiten, schlüpft in die Perspektiven von Protagonisten, deren Spuren von anderen Zuschauern verfolgt werden:

So setzt sich ein Zuschauer an den Schreibtisch einer Führungskraft aus dem Rüstungsgeschäft. Eine andere Zuschauerin folgt gleichzeitig dem Film eines pakistanischen Anwaltes von Opfern amerikanischer Drohnenanschlägen in ein enges Kabuff mit Überwachungsmonitoren. Auf ihrem Weg dorthin sieht sie einen dritten Zuschauer, der seinem Film in den Schießstand eines Berliner Schützenvereins folgt, an dem er dem deutschen Meister im Parcours-Schießen zuhört. Um die Ecke steht ein anderer Zuschauer in der Rolle eines Arztes, der in Sierra Leone Amputationen durchführt, während im Zimmer daneben ein Pressefotograf Bilder von Bundeswehreinsätzen in Afghanistan sortiert um wenig später selbst im Schießstand zu stehen um genau das zu tun, was er vorhin beiläufig beobachten konnte – und dabei für andere zum Gegenstand der Beobachtung zu werden.

So verfängt sich das Publikum nach und nach im räumlichen und inhaltlichen Labyrinth des Filmsets; jeder Einzelne wird Teil des Re-Enactments eines komplex ausgetüftelten multiperspektivischen "Shootings".

Situation Rooms ist ein multiples Simultan-Kino. Augmented Reality, die so dreidimensional ist, wie es nur Theater sein kann!

Im Rahmen von "JETZT FEIERN – 20 Jahre Rimini Protokoll" sind parallel zu"Situation Rooms" Installationen im HAU2 zu sehen, die Einblick in das multimediale Schaffen der Gruppe geben: Die VR-Installation "Feast of Food" über das Landleben im Zeitalter globaler Nahrungsmittelproduktion, Screenings von Filmen zum indisch-deutschen Projekt "Call Cutta" und zur "Weltklimakonzerenz" sowie Hörspielstationen, an denen sich das Publikum quer durch das Hörspiel-Werk von Rimini Protokoll hören kann.

Eingeladen zum Theatertreffen Berlin 2014.

May 2011, a photo flashes onto screens around the world. It shows 13 people in a room. The expressions on their faces speak volumes: triumph, fascination, scorn, horror, scepticism, preoccupation. The photo from the White House "Situation Room" documents the end of a manhunt that was pursued with all possible weapons.
Situation Rooms gathers together from various continents 20 people whose biographies have been shaped by weapons in a film set that recreates the globalised world of pistols and rocket-propelled grenades, of assault rifles and drones, of rulers and refugees, becoming a parcours of unexpected neighbourhoods and intersections.

With the personal narratives of the 'inhabitants', the images start to move and the audience follows the individual trails of the cameras they have been given. They start to inhabit the building, while following what they see and hear on their equipment. The audience does not sit opposite the piece to watch and judge it from the outside; instead, the spectators ensnare themselves in a network of incidents, slipping into the perspectives of the protagonists, whose traces are followed by other spectators.

One spectator sits at the desk of a manager for defence systems. At the same time, another follows the film of a Pakistani lawyer representing victims of American drone attacks in a cramped room with surveillance monitors. On her way there, she sees a third spectator who follows his film into the shooting range of a Berlin gun club, listening Germany´s parcours shooting champion. Around the corner stands another spectator in the role of a doctor carrying out amputations in Sierra Leone, while in the room next door a press photographer sorts pictures of German army missions in Afghanistan, only to stand in the shooting range himself a little later to do exactly what he was able to observe in passing just a while ago, thereby becoming a subject for observation himself.

The audience gradually becomes entangled in the film set's spatial and material labyrinth; each individual becoming part of the re-enactment of a complicatedly elaborated multi-perspective "shooting".

Situation Rooms is a multiple simultaneous cinema; augmented reality as three-dimensional as only theatre can be!

As part of "JETZT FEIERN – 20 Years of Rimini Protokoll" there will be additional installations on display at HAU2 that provide an insight into the multimedia creative work of the group. The VR installation "Feast of Food" about farm life in the age of global food production, screenings of films about the Indian-German project "Call Cutta" and "Weltklimakonferenz" as well as radio drama stations where the audience can listen through the entire radio drama oeuvre of Rimini Protokoll.

Invited to Theatertreffen Berlin 2014.
Location
HAU2
Hallesches Ufer 32
10963 Berlin
Germany
Plan route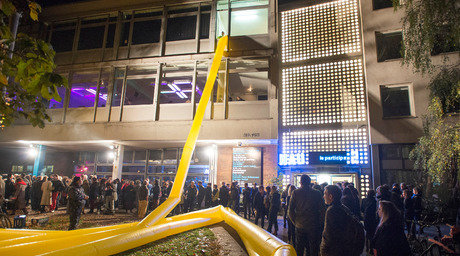 In der Spielzeit 2003/2004 haben sich drei selbstständige Bühnen zu einer neuen, einzigartigen Theaterinstitution zusammengefügt. Das Hebbel-Theater, das Theater am Halleschen Ufer und das Theater am Ufer bilden nun das "Hebbel am Ufer", kurz "HAU".

Hier weht ein frischer Wind, besonders in Person von Annemie Vanackere. Die Belgierin ist seit 2012 Intendantin des Hauses und hat sich voll und ganz der Kunst verschrieben. Sie steht für das Unkonventionelle und sammelte bereits in Gent sowie an der Schouwburg in Rotterdam Erfahrungen in der freien Theaterszene. Sie versteht das Theater als Freiraum, in dem Kunst und Ästhetik jegliche Form der Funktionalität überwinden, wodurch festgefahrene Strukturen und Denkmuster aufgebrochen werden können.

Innovation ist der kreative Motor des Theaters. Das HAU steht allerdings ebenso für Tradition: Sowie das Hebbel-Theater für internationale Gastspiele bekannt war, soll auch das Hebbel am Ufer eine Spielstätte für Künstler aus der ganzen Welt sein. So vielfältig und verschieden wie die beteiligten Akteure, ist daher auch das Programm, welches aus Theater, Tanz, Performance, Musik und Bildender Kunst besteht.