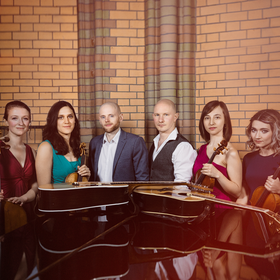 SIMON & GARFUNKEL - THROUGH THE YEARS
BOOKENDS &nbsp
Landsberger Straße 2B
98617
Meiningen
Event organiser: Veranstaltungsbüro P.O.P. Ludwig, Kirchengler Hauptstrasse 17, 99718 Großenehrich/ OT Kirchengel, Deutschland
Event info
Simon & Garfunkel war eines der erfolgreichsten amerikanischen Folk-Rock-Duos aller Zeiten. Mit Songs wie "Sound of Silence", "Bridge Over Troubled Water" oder "Mrs. Robinson" sorgten die beiden Musiker für zeitlose Hits. Das schottische Duo Bookends präsentiert nun mit "Simon & Garfunkel – Through The Years" eine Hommage, die beeindruckend dicht am Original liegt.

Die Ausnahmemusiker Dan Haynes und Pete Richard bilden die Formation Bookends und werden für ihre Darbietung von Kritikern und Fans gefeiert. Unterstützung erhalten sie von dem englischen Leo String Quartett, durch dessen musikalische Begleitung die Songs eine besondere Güte und einmalige Brillanz erreichen. Zusammen lassen sie den unverwechselbaren Sound und die Performance der legendären Folk-Rock-Musiker lebendig werden.

Wer das Duo Bookends live auf der Bühne hört, könnte fast meinen, Paul Simon und Art Garfunkel stünden selbst auf der Bühne. Lassen Sie sich "Simon & Garfunkel – Through The Years" nicht entgehen und machen Sie eine authentische Zeitreise zurück in die 60er-Jahre!