Simon & Garfunkel Revival Band: Feelin´ Groovy
Marheinekeplatz 1
10961
Berlin
Event organiser: CineEvent GmbH, Eichstädter Str. 12, 06249 Mücheln, Deutschland
Event info
In ihrem Programm "Feelin' Groovy" präsentieren sie die schönsten Songs des Kult-Duos
Es gibt wenige Künstler, denen ein vergleichbar guter Ruf vorauseilt, wie dies bei der Simon & Garfunkel Revival Band der Fall ist. Wo sie auch auftreten, hinterlassen die Vollblutmusiker ein begeistertes Publikum und überschwängliche Kritiken.
Traumhafte, leidenschaftliche Balladen wie "Scarborough Fair" oder "Bright Eyes", Klassiker wie "Mrs. Robinson", "The Boxer" oder "The Sound of Silence" gehören ebenso fest zum umfangreichen Repertoire wie die mitreißende "Cecilia".
Videos
Location
Passionskirche Berlin
Marheinekeplatz 1
10961 Berlin
Germany
Plan route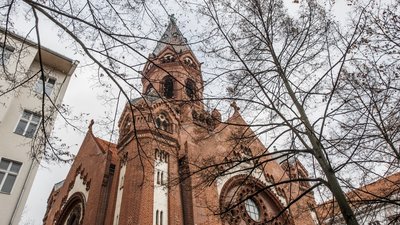 Die Passionskirche ist das wohl imposanteste Gotteshaus der Hauptstadt. Ebenso beeindruckend ist ihre Nutzungsvielfalt, die sich auch weit über sakrale Veranstaltungen hinaus erstreckt. Für ihre grandiosen Konzerte und kulturellen Veranstaltungen ist sie mittlerweile weit über die Grenzen Berlins bekannt und auch bei Bürgern hoch geschätzt.

Obwohl sie durchaus den Eindruck erweckt, sie stünde hier schon ewig, wurde die Passionskirche erst 1905 erbaut. Im Stil der Neuromanik und aus Backsteinen erhebt sie sich im Bezirk Kreuzberg auf einem quadratischen Umriss mit einem Turm genau in ihrer Mitte. Fast die gesamte Originalausstattung blieb sogar über die Weltkriege hinaus erhalten. Im Zuge neuerer Sanierungsarbeiten erhielt die Kirche eine Fußbodenheizung, neueste Tontechnik und schalldichte Fenster. Seit dem finden hier neben den Gottesdiensten auch zahlreiche Lesungen, Ausstellungen oder Konzerte statt. Fast alle Musikrichtungen sin dabei vertreten, unter anderem waren hier schon Subway To Sally oder die No Angels zu Gast!

Ob Billy Bragg mit seiner E-Gitarre vor dem Gekreuzigten oder John Legend, der die Kirche zum Beben brachte: Die Passionskirche Berlin erfüllt das Wort Begegnungsstätte mit neuem Sinn. Das Konzept "Kultur in Kirchen" geht vollends auf und für alle Veranstaltungen ist die Passionskirche mit ihrer atemberaubenden Akustik und der großartigen Atmosphäre einfach die perfekte Location.