Zu Ihrer Sicherheit und der weiteren Eindämmung des Coronavirus finden alle Veranstaltungen unter Einhaltung der aktuellen gesetzlichen Vorschriften statt: Die jeweiligen Veranstalterinnen und Veranstalter tragen Sorge, dass die Hygienemaßnahmen stets überwacht und eingehalten werden.
More details
Rescheduled
Previous date:
Salaputia Brass Quintett - Signals for Christmas
Weingut Dr. Baumann präsentiert: &nbsp
Römerstraße 110
71229
Leonberg
Tickets from €22.00 *
Concession price available
Event organiser:
Stadthalle Leonberg, Römerstraße 110, 71229 Leonberg, Deutschland
Event info
Signals for Christmas

Georg Friedrich Händel (1685-1759)/ Arr. J. Wilson:
Music for the Royal Fireworks

Traditionals/ Arr. John Iveson:
Carol Fantasy

Tielman Susato (1500-1561)/ Arr. J. Iveson/ Arr. U. Agnas:
Suite
Arr. J. Iveson: 1. La mourisque
Arr. J. Iveson: 2. Ronde
Arr. J. Iveson: 3. Ronde-mon ami
Arr. U. Agnas: 4. Pass et medio
Arr. U. Agnas: 5. Gaillarde 2
Arr. J. Iveson: 6. Basse danse bergere

Peter Dörpinghaus (*1990):
Das Volk das im Dunklen wandelt

Traditionals/ Arr. J. Iveson:
Jingle Bells - Deck the Halls

Jean-Philippe Rameau (1683-1764)/ Arr. S. Verhelst:
Dardanus Suite
1. Ouverture
2. Air Vif
3. Air Vivement

Traditional/ Arr. J. Zimmermann:
Ding Dong Merrily On High

Johann Sebastian Bach (1685-1750)/ Arr. H. Herforth:
My Spirit Be Joyful

Traditionals/ Arr. I. Luis:
Weihnachtslieder-Medley

Engelbert Humperdinck (1854-1921)/ Arr. P. Dörpinghaus:
Hänsel und Gretel Vorspiel / Abendsegen
Event location
Stadthalle Leonberg
Römerstraße 110
71229 Leonberg
Germany
Plan route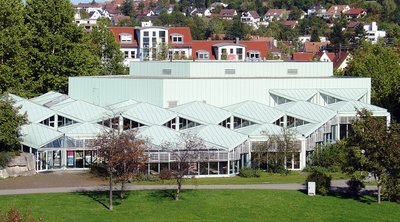 In der Leonberger Stadthalle findet jede Veranstaltung den passenden Rahmen. Seit über einem Vierteljahrhundert werden hier Kongresse, Tagungen, Ausstellungen und Familienfeiern ausgerichtet. Ganz besonders stolz sind die Leonberger auf ihr vielfältiges und umfangreiches Veranstaltungsprogramm, bei man die Stars und Größen der Showbranche hautnah erleben kann. Ob Komödie, Kabarett, Operetten, Musicals, Klassik oder Kinder- und Jugendtheater, jeder Geschmack wird getroffen.

Die Mehrzweckhalle bietet mit neun Sälen und Seminarräumen sowie einem flexiblen Hallenkonzept Platz für bis zu 750 Personen. Darüber hinaus glänzt sie mit einer höchstmodernen Bühnen-, Licht- und Tontechnik, die in einem gastlich heiteren Ambiente besonders zur Geltung kommt. Etwa 15 km vom Stuttgarter Stadtzentrum entfernt und mit einer idealen Anbindung an die öffentlichen Verkehrsmittel, kann die Stadthalle bequem erreicht werden. Das hausinterne Restaurant und 170 eigene PKW- Parkplätze runden die Halle zu einem perfekten Veranstaltungsort ab.

Kommen Sie nach Baden- Württemberg und besuchen Sie die Stadthalle Leonberg, in der es an erster Stelle gilt gemeinsam aufregenden Stunden und Momente zu erleben.
Terms and conditions
Corona Einlassbedingungen
Bitte beachten Sie die zum Zeitpunkt der
Veranstaltung gültigen Corona-Bestimmungen!