Zu Ihrer Sicherheit und der weiteren Eindämmung des Coronavirus finden alle Veranstaltungen unter Einhaltung der aktuellen gesetzlichen Vorschriften statt: Die jeweiligen Veranstalterinnen und Veranstalter tragen Sorge, dass die Hygienemaßnahmen stets überwacht und eingehalten werden.
More details
Rescheduled
Previous date:
Ruts DC
Frankenstr. 200
90461
Nürnberg
Event organiser:
GkF - Gesellschaft für kulturelle Freiräume mbH, Frankenstraße 200, 90461 Nürnberg, Deutschland
Information on concessions
Einlass ab 16 Jahren nur mit gültigem Ausweisdokument.
Ein entsprechender Nachweis ist am Einlass unaufgefordert vorzuzeigen.

Begleitpersonen von Besucher_innen mit Vermerk B im Behindertenausweis haben kostenlosen Eintritt im Z-Bau. Es reicht also, wenn ihr gemeinsam ein Ticket kauft. (Zeigt am Einlass bitte den Nachweis vor.)
Falls ihr mit einer Begleitperson oder im Rollstuhl kommt, meldet euch bitte unbedingt vorher bei uns. So können wir euch einen besseren Platz sichern.
Schreibt uns entweder eine E-Mail an barrierefrei@z-bau.com oder ruft an unter 0911 4334 920.
Event info
The Ruts D.C were formed in 1981 by the rhythm section and guitarist of The Ruts. The Ruts had had three whirlwind years of success and much critical acclaim.
The Ruts were without doubt the best of the original punks who dubbed it up. When tragedy struck and the band split it wasn't long before the booming rhythm section of Dave Ruffy and John'Segs'Jennings came forward with The Ruts DC (DC from the Latin De Capo meaning' from the beginning') their strong early roots reggae and dub influences coming to the fore. The resulting Dub album "Rhythm Collision Vol. 1" was recorded with the then relatively unknown dub specialist Mad Professor and is still in demand.
Both Ruffy and Segs , who have been described as Europe's Sly and Robbie (no small boast considering their playing skills are matched by their far ranging production skills!)have since had wide and varied careers both in live bands and in the studio. On 16th July 2007 the Ruts reformed for the first time in 27 years for a one off benefit for Paul Fox the original guitarist following his diagnosis with lung cancer. Henry Rollins took over vocal duties and they were supported by The Damned, Misty In Roots, UK Subs ,Tom Robinson, John Otway and more. This was described as "the best punk gig of all time" by The Times and proved the rhythm section as strong as ever and will remain in London gig legend forever.
Event location
Z-Bau
Frankenstr. 200
90461 Nürnberg
Germany
Plan route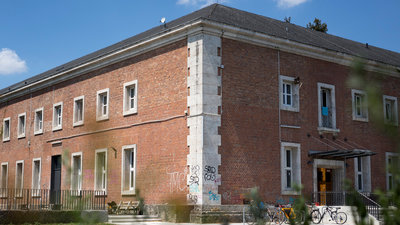 Das Kulturzentrum Z Bau in Nürnberg ist eine künstlerische Spielwiese, die kulturellen Freiraum für die unterschiedlichsten Projekte schafft und jeden herzlich willkommen heißt. In den großzügigen Räumen des Hauses findet von Partys und Konzerten über Ausstellungen bis hin zu Literaturveranstaltungen und anderen Kunstprojekten so ziemlich alles statt.

Auf bis zu 5.500m² bespielbarer Fläche leben sich die Künstler, ganz gleich ob bekannt oder Nachwuchs, ob regional oder international, aus und widmen sich gemeinsam den Bereichen Musik, Theater und Literatur. Insgesamt stehen vier Veranstaltungsräume, darunter der Rote Salon, sowie Ateliers, Studios und weitere Projekträume zur Verfügung, in denen Kreativität keine Grenzen gesetzt wird. So wurde auch der Kunstverein Hintere Cramergasse e.V. feste Instanz im Z Bau, der hier seit 2000 ehrenamtlich arbeitet und für alle Weltoffenen seine Tore geöffnet hat. Nur wenige Gehminuten von der Haltestelle "Frankenstraße" entfernt, befindet sich der Z-Bau in attraktiver Lage, für Besucher und Veranstalter!

Das Kulturgelände im Nürnberger Stadtteil Hasenbuck ist barrierefrei und verfügt außerdem über einen großzügigen Außenbereich, der Künstler und Besucher bei Sonne ins Freie lockt und das Angebot im Z Bau mit einem Biergarten perfekt abrundet.

Sollten die Parkplätze im Z-Bau alle belegt sein, kann u.a. auf das Parkhaus FrankenCampus ausgewichen werden.
Gäste des Z-Bau können dort auch nach 21:00 Uhr parken (entgegen der Beschilderung im Parkhaus)
Hygiene concept
Bitte Beachten !
Während der Veranstaltung gelten die allgemeinen Hygieneregelungen. Alle weiteren Infos entnehmen Sie unserer Homepage.
Weitere Infos