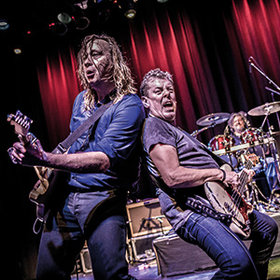 RORY GALLAGHERS BAND OF FRIENDS - die Musik von Rory mit Gerry McAvoy
Wallbacher Straße 2
65510
Idstein
Event organiser: Scheuer, Hinter den Gärten 3a, 65510 Idstein, Deutschland
Event info
Rory Gallagher produzierte einige der wunderbarsten Rock-/Blues-Alben der 60er, 70er und 80er Jahre und erreichte ein Riesenpublikum von Norwegen bis Spanien, von Japan bis Amerika. Aus Anerkennung für Rory und um seine grossartige Musik zu feiern, haben zwei seiner Weggefährten die Band Of Friends gegründet.
Gerry McAvoy (bass, vocals – Rory Gallagher / Nine Below Zero / Champion Jack Dupree) spielte auf jedem Album von Rory als Bassist mit. 20 Jahre lang, von 1971 bis 1991, hatte er unvergleichliche Einblicke in Gallaghers Leben. Darüber schrieb McAvoy schliesslich ein Buch, das 2005 erschienene "Riding Shotgun". Der deutsche Titel: "On The Road" (www.ridingshotgun.co.uk).
Location
Scheuer
Wallbacher Straße 2
65510 Idstein
Germany
Plan route
Die Scheuer im hessischen Idstein ist Kult. Der Club im Innenhof des Nassauer Hofes lockt seit über 50 Jahren Besucher zum gemeinsamen Feiern, Tanzen und Beisammensein. Regelmäßig finden hier Konzerte, Tribute-Shows und andere kulturelle Veranstaltungen statt.

Die Geschichte der Scheuer ist reich an Anekdoten und Legenden. Den Nassauer Hof gibt es bereits seit 1850, Anfang des 20. Jahrhunderts wurde er zum Vereinslokal einer Gesangsgruppe. Seither wurden Teile des Hofes immer wieder umgebaut, abgerissen, zerstört und neu aufgebaut. Die Scheuer ist in der Veranstaltungskultur der Stadt ein zentraler Punkt und vereint Kneipe, Festsaal und Bar an einem einzigen Ort. Bekannt ist die Location dabei vor allem für die Auftritte von Coverbands – erfolgreiche Tribute Shows wie Mad Zeppelin, Still Collins und Just Pink traten schon in der Scheuer auf.

Mit dem Auto erreichen Sie die Scheuer über die A3 (Abfahrt Idstein) in Richtung Wörsdorf. Parkplätze befinden sich an der Gemeindehalle in der Hauptstraße. Mit den öffentlichen Verkehrsmitteln gelangen Sie zum Bahnhof Wörsdorf, von hier aus sind es vier Gehminuten bis zum Nassauer Hof.