ROCK THE WORLD - Rock Classics treffen auf Worldmusic & Dance
Wilhelm-Drapp Str. 7
76532
Baden-Baden
Event organiser: applegreen GmbH, Aschmattstraße 8, 76532 Baden-Baden, Deutschland
Information on concessions
Alle Personen mit einem B in ihrem Schwerbehindertenausweis, können ein Ticket für eine Begleitperson kostenfrei beim Veranstalter unter 07221 - 50 21 70 buchen.
Event info
Bei "ROCK THE WORLD" gehen die Zuschauer auf eine erlebnisreiche musikalische Reise um die Welt – ohne Grenzen! Rock-Klassiker und etablierte Gitarren-Riffs verschmelzen mit African Dance, Flamenco, Breakdance und Hiphop. Für den wahrscheinlich lautesten Moment des Abends sorgt Holzsäge-Komponist Guntram Prochaska aus Karlsruhe, der in seiner Kettensägen-Performance eine Skulptur erschafft – live auf der Bühne! Spektakuläre Großbild-Projektionen von applegreen-events machen aus der Live-Show eine einzigartige Multimedia-Inszenierung.

Sei dabei, wenn es heißt: ROCK THE WORLD, DON'T STOP!

Weitere Infos unter: www.RockTheWorld.de
Videos
Location
Gospelhouse Baden-Baden
Wilhelm-Drapp-Straße 7
76532 Baden-Baden
Germany
Plan route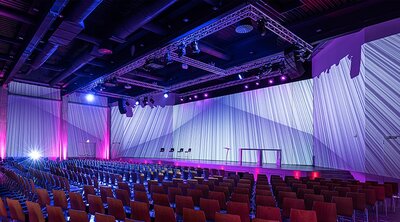 Unter dem Motto "Raum für bleibende Momente" bietet das Gospelhouse Baden-Baden eine Plattform für verschiedene Event-Highlights. Nach der Fertigstellung des Neubaus gehört das Gospelhouse Baden-Baden mit 1.000 Besucherplätzen zu einer der größten Eventlocations in der Kurstadt.

Ein offenes Raumkonzept und eine herausragende technische Ausstattung sorgen dafür, dass die Location außergewöhnliche Erlebnisse garantiert. Ausgestattet mit einer Bühnenfläche von 150 qm, neuester LED-, Ton- und Videotechnik sowie einer 270°-Großbild-Projektionsfläche bietet sie für jeden Anlass (Events, Konzerte, Galas, Präsentationen, Firmenveranstaltungen) den perfekten Raum für bleibende Momente.

Dank seiner zentralen Lage unweit des Bahnhofs Baden-Baden ist das Gospelhouse gut zu erreichen. Machen Sie sich auf den Weg und erleben Sie einzigartige Momente in tollem Ambiente!