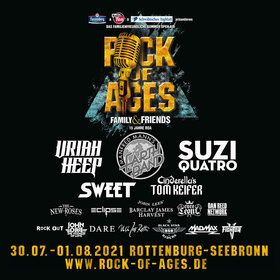 Das familienfreundliche Rock of Ages Festival bietet Groß und Klein ein Wochenende lang Rockmusik vom Feinsten! Knackige Riffs und mitreißende Melodien international bekannter Bands sorgen dafür, dass das Open Air schon lange in der Liga der großen Rockfestivals mitspielt.

2006 gegründet, hat sich das Festival Rock of Ages innerhalb kürzester Zeit zum Mekka europäischer Rockfans entwickelt. Angesiedelt im beschaulichen Seebronn, bietet es die ideale Kulisse für ein Wochenende voller Musik. Das Hauptanliegen der Veranstalter ist es, ihren Besuchern traditionelle Rockmusik von Ballade bis Rock-Epos zu bieten – und das schaffen sie auch! Internationale Größen wie Bob Geldof, Alice Cooper oder Kansas geben sich hier die Klinke in die Hand und begeistern mit tollen Live-Performances. Jedes Jahr wächst die Fangemeinde des Festivals, das durch eine einzigartige Atmosphäre und gut ausgewählte Line-Ups als Ganzes überzeugt. Ausdrücklich als familienfreundliches Rock Open Air ausgeschrieben, werden Eltern dazu eingeladen, ihre Kinder mitzubringen und gemeinsam den Bands zu lauschen.

Das Rock Open Air Rock of Ages bietet allen Besuchern ein phantastisches Wochenende, das man sich nicht entgehen lassen sollte. Jetzt Tickets sichern!
Source: Reservix