RESPECT - A Tribute To Aretha Franklin
RESPECT &nbsp
Birkenauer Talstraße 1
69469
Weinheim
Tickets from €29.00
Concessions available
Event organiser: Sweet Soul Music GmbH, Pleikartsförster Hof 5, 69124 Heidelberg, Deutschland
Event info
Aretha Franklin – Die unbestrittene Queen Of Soul, mehrfache Grammy Gewinnerin und erste Frau in der Rock and Roll Hall of Fame, starb nach einem Leben voller Höhen und Tiefen am 16. August 2018 in Detroit. Mit ihrer einzigartigen ausdrucksstarken Stimme entdeckte sie den Jazz und Blues, den sie live in Clubs performte und für Columbia Records im Studio aufnahm. 1967 gelang ihr nach einem Wechsel zu Atlantic Records mit I never loved a man der internationale Durchbruch. Es folgten 17 top-ten Pop Singles und 20 number-one R&B singles. Ihr number-one Hit Respect wurde zur Hymne der afroamerikanischen Befreiungs- und der Frauenbewegung. RESPECT- Die Aretha Franklin Tribute Show präsentiert die wichtigsten Stationen ihrer über 50-jährigen Karriere und gibt einen repräsentativen Querschnitt ihres musikalischen Schaffens in einer abendfüllenden und extrem unterhaltsamen Show mit hohem biographischem und musikalischen Anspruch. Nicht nur die größten Hits der internationalen Charts wie I Never Loved A Man, Respect, Chain Of Fools, Natural Woman, Think, I Say A Little Prayer, Don't Play That Song, Spanish Harlem, Rock Steady, Until You Come Back To Me, Angel and Ain't No Way werden von den hochkarätigen Lead- und Backing Vocals Darnita Rogers, Noreda Graves, April 'Journi' Cook, Janine Dean, Tiffany Stella Kemp, Janet Taylor und Flore M in bester Tributemanier mit eigener Ausdrucksstärke und Performancekraft interpretiert. Es werden auch Aretha's unbekanntere Soul- und Gospel-Perlen (u.a. Border Song) und ihre, mit anderen bekannten Stars, erfolgreichen Duette wie I Know You Were Waiting (mit George Michael), Sisters Are Doin' It For Themselves (mit The Eurythmics) plus einige ihrer vielen Cover-Versionen bekannter Hits wie Bridge Over Troubled Water präsentiert. Eine zehnköpfige Band (Drum, Percussion, Bass, Gitarre, Keyboard, Hamond-Orgel, Trompete, Alt-Saxophone, Tenor-Saxophone, Bariton-Saxophone) garantieren den authentischen Sound der Zeit. Und das alles in Respekt und tiefer Verneigung vor der unsterblichen Königin des Soul.
Videos
Location
Stadthalle Weinheim
Birkenauer Talstraße 1
69469 Weinheim
Germany
Plan route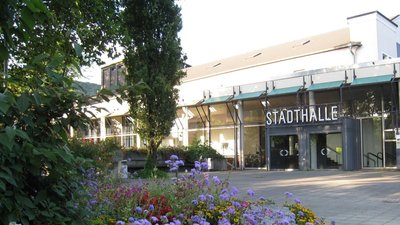 Den Nutzungsmöglichkeiten in der Stadthalle Weinheim sind keine Grenzen gesetzt. Das Kulturzentrum der Stadt Weinheim im Nordwesten Baden-Württembergs präsentiert sich technisch auf dem allerhöchsten Niveau. Veranstaltungen wie Theater, Bälle, Konzerte, Kongresse, Gala-Diners, Bankette, Empfänge, Jahrgangstreffen und Jubiläen werden mit einer hervorragenden Akustik und einem freundlich frischen Ambiente zu absoluten Highlights.

Im Mittelpunkt der Bergstraße gilt Weinheim als modernes und zugleich traditionsreiches Zentrum, das nur einen Katzensprung von Heidelberg, Mannheim und Ludwigshafen entfernt ist. Sowohl kulturelle und gesellschaftliche als auch geschäftlichen Anlässe finden in der repräsentativen Stadthalle die perfekten Räumlichkeiten. Ob großer und kleiner Saal oder Studiobühne, jeder Veranstaltung wird eine besondere Note verliehen.

Kommen Sie in die facettenreiche Stadthalle in Weinheim und verbringen einmalige Momente in einladender Atmosphäre.