Verschoben
Bisheriges Datum:
Rend Collective - The Revival Anthem World Tour
Rend Collective &nbsp
Schmausenbuckstr. 166
90480
Nürnberg
Tickets from €33.00 *
Concessions available
Event organiser: GCM, Rosenstr. 9, 70794 Filderstadt, Deutschland
Information on concessions
Der ermäßigte Preis gilt für Schüler, Studenten, FSJ´ler, Rollstuhlfahrer, Schwerbehinderte und Arbeitslose.
Die Begleitperson von Schwerbehinderten erhält eine Freikarte.
Event info
REND COLLECTIVE – The Revival Anthem World Tour 2020

'Gute Nachrichten': Die irische Band Rend Collective kommt im September 2020 erneut
auf Deutschland-Tour. Nach ihrer furiosen 'Good News' Tour in 2018 präsentiert sie nun
ihr neues Album ´Revival Anthem´, mit neuen mitreißenden Songs: unkonventionell, irisch
und tiefgründig. Bitte rechtzeitig Tickets sichern!

Mehr Info: rendcollective.com
Videos
Location
Löwensaal Nürnberg
Schmausenbuckstraße 166
90480 Nürnberg
Germany
Plan route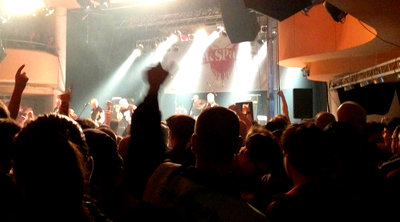 Mitten im Nürnberger Tiergarten liegt der Löwensaal, die Nummer 1 der Partylocations der Stadt. Zahlreiche Konzerte und ausgelassene Partys fanden hier bereits schon statt und auf der Bühne des Löwensaals wird es auch weiterhin gewaltig krachen.

1.500 Menschen finden im sechseckigen Saal Platz. Zu Peter Fox, Silbermond, Uriah Heep oder Eisbrecher geht es hier richtig ab. Doch auch Lesungen, Poetry Slams und kulturelle Veranstaltungen haben im Saal mit Empore ihren Platz.

Berühmt und berüchtigt für Studentenfeten und Rock/Pop-Konzerte: Hier brüllt der Löwe!