Zu Ihrer Sicherheit und der weiteren Eindämmung des Coronavirus finden alle Veranstaltungen unter Einhaltung der aktuellen gesetzlichen Vorschriften statt: Die jeweiligen Veranstalterinnen und Veranstalter tragen Sorge, dass die Hygienemaßnahmen stets überwacht und eingehalten werden.
Event organiser:
Café Central, Bahnhofstraße 19, 69469 Weinheim, Deutschland
Information on concessions
Die Begleitperson von Rollstuhlfahrern erhält freien Eintritt ohne Ticket.
Event info
Rock'n'Roll meets… Dudelsack!? Dass diese ungewöhnliche Kombi bestens funktionieren, beweisen die Red Hot Chilli Pipers. Egal ob "Fix You" von Coldplay, "Let Me Entertain You" von Robbie Williams oder Klassiker wie "We Will Rock You" und "Smoke on the Water" – eine originellere Coverband gibt es einfach nicht!

Seit die Combo 2007 bei der britischen Talentshow "When Will I Be Famous" den ersten Preis gewann, sind sie kaum zum Luftholen gekommen: mit ihren Dudelsäcken touren sie pausenlos durch die Rockbühnen Europas, veröffentlichten mehrere erfolgreiche Alben und – erfanden ganz nebenbei ein neues Musikgenre: den "Bagrock"!

Mit ihrer phänomenalen Live-Show sind die Red Hot Chilli Pipers zu einer der angesagtesten Live-Acts weltweit geworden. Beste Unterhaltung, die Sie sich nicht entgehen lassen sollten!
Event location
Halle 101 Speyer
Am neuen Rheinhafen 6
67346 Speyer
Germany
Plan route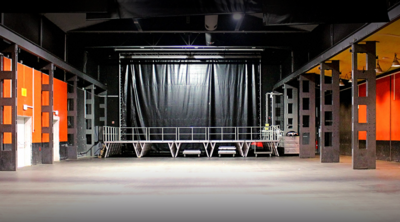 Direkt am Rhein gelegen, mit großem Parkplatz und bester Anbindung an öffentliche Verkehrsmittel, bereichert die Halle 101 Speyer seit vielen Jahren das breitgefächerte Kulturprogramm der Region.

Mittelpunkt der Location ist die Veranstaltungshalle, die - genau wie das weitläufige Außengelände - Platz für bis zu 1000 Besucher bietet.

Als Kulturzentrum der Stadt Speyer, mit vielfältigen Angeboten für Menschen aller Generationen, bietet die Halle 101 Speyer ein abwechslungsreiches Kulturprogramm und gilt deshalb seit vielen Jahren als eine der angesagtesten Event-Locations der Metropolregion Rhein-Neckar.

Kultur, Toleranz und Lebenslust.