QUEEN REVIVAL SHOW
WE WILL ROCK YOU! &nbsp
Siemensstr. 11
70469
Stuttgart
Event organiser: C2 Concerts GmbH, Kölner Straße 28, 70376 Stuttgart, Deutschland
Event info
QUEEN REVIVAL SHOW: WE WILL ROCK YOU!

Freddie Mercury gilt als einer der bedeutendsten Rocksänger unserer Zeit. Mit seiner Band Queen mischte er über 20 Jahre ganz oben in den Hitparaden mit. In Stuttgart können nun Fans der Band das unglaublich breite musikalische Spektrum von Glamrock, Rap bis hin zu opernhaft anmutenden Stücken noch einmal live erleben. Die Queen Revival Band schafft es, die unvergleichliche Atmosphäre der legendären Konzerte weiterleben zu lassen und performt bei der "Queen Revival Show" alle großen Hits wie "I want to break free", "Radio Ga Ga", das grandiose "We will rock you" oder "We are the Champions".

Die effektvolle Show mit aufwändigen Lichteffekten und originalgetreuen Outfits begeistert seit Jahren Fans in Deutschland, Österreich, Italien und der Schweiz durch originalgetreuen Bühnenaufbau und musikalisch perfekter Performance, sowohl optisch als auch musikalisch. Die Musiker Harry Rose als Freddie Mercury und Stefan Pfeiffer als Brian May sehen ihren Vorbildern nicht nur zum Verwechseln ähnlich, sondern sind auch musikalisch ganz nah dran am Original. Am 22.11.2018 schlüpfen die beiden wieder in ihre Paraderollen, um zusammen mit ihrer Band auf der Bühne zu stehen! The Show goes on – am 22. November 2018 in Stuttgart.
Location
Theaterhaus
Siemensstr. 11
70469 Stuttgart
Germany
Plan route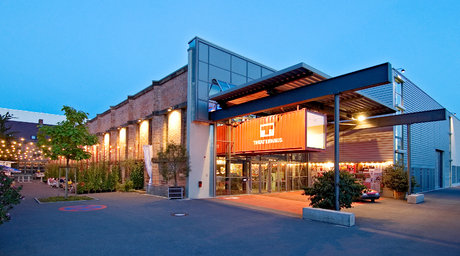 Ein einziger Ort, der Kunst, Kultur und Sport verbindet – Dieser Traum ist 1985 mit der Gründung des Theaterhaus Stuttgart e.V. wahr geworden! Seit 2003 ist der Sitz in den ehemaligen Rheinstahlhallen nahe dem Pragsattel im Norden Stuttgarts. Dort sucht das Theaterhaus Stuttgart mit seinen vier Veranstaltungshallen, dem Glashaus und der Sporthalle europaweit nach seinesgleichen.

Pro Jahr sind mehr als 300.000 Besucher bei Veranstaltungen aller Art anzutreffen: Theater, Tanz, Shows, Konzerte, Comedy, Kabarett, Lesungen, Kongresse, Sportevents… Zudem richtet das Theaterhaus seit 1987 jährlich die Theaterhaus Jazztage aus, sowie seit 2015 biennal das COLOURS International Dance Festival. Mit dem Theaterhaus Schauspielensemble und der Gauthier Dance//Dance Company Theaterhaus Stuttgart erfreut sich das Veranstaltungshaus zweier ausgezeichneter und erfolgreicher Ensembles.

Das Theaterhaus Stuttgart ist eines der bedeutendsten seiner Art und inzwischen ein einzigartiges Kulturzentrum.