PORTRAITS IM EXIL 2020 - Bröllin/Berlin • Performance & Videoinstallation
COLLECTIF K-LI-P &nbsp
Tickets from €15.30 *
Concessions available
Event organiser: Uferstudios GmbH, Uferstr. 23, 13357 Berlin, Deutschland
Unfortunately there are currently no tickets available.
Event info
Die deutsche Choreographin Christel Brink Przygodda und der visuelle Künstler Philippe Veyrunes aus Frankreich vereinen in ihren Arbeiten als COLLECTIF K-L-I-P (Körper-Lumiere-Installation-Performance) Video, Text, Musik und Bewegung in einem künstlerischen Prozess und schaffen aus dessen Ergebnissen offen begehbare und vielfältig bespielbare Begegnungs- und Erfahrungsräume, die immer wieder neu an neuen Orten gestaltet werden können.
In ihrem Projekt "EGODOCUMENT - Inszenierung der eigenen Existenz" 2016/2017 arbeiteten sie in dieser Form erstmals mit geflüchteten Teilnehmern und boten Raum für die Auseinandersetzung mit individuellen Erfahrungen von Flucht und Migration. In "PORTAITS IM EXIL" 2018/19 entwickelten sie ihren Ansatz in Form einer zeitgenössischen Freske weiter und suchten die Begegnung mit jungen Erwachsenen und jungen professionellen Künstlern, die nun in Emigration in Europa leben. Die Texte der Allgemeinen Erklärung der Menschenrechte inspirierten die Prozesse und waren in Videomodulen in poetisch-kritischer Art im Raum präsent. Fragen an die Teilnehmer betrafen ihre Erfahrungen des Lebens im Exil und beschäftigen sich mit dem Thema Neuland (Ich in diesem für mich neuen und fremden Land, meine Erfahrungen, Träume, Hoffnungen, ...). So entstand eine Reihe von Portraits/Autoportraits unterschiedlichster Menschen auf der Suche nach Lösungen für die uns alle betreffenden und beständig herausfordernden gesellschaftlichen Entwicklungen von Flucht, Migration und Exil.
Mit PORTRAITS IM EXIL 2020 – Bröllin/Berlin kommen nun erstmals Teilnehmer/innen aus allen Prozessen in einer gemeinsamen grenzüberschrei-
tenden Inszenierung zusammen. Ihre individuellen Geschichten innerhalb der begehbaren Installation und der Performance zeichnen ein einfühlsames und kraftvolles Panorama der Erfahrung des Exils und machen gleichzeitig den Weg jedes einzelnen in eine neue Gesellschaft und ein neues Leben erlebbar.

Eine Produktion von COLLECTIF K-LI-P mit Fenster zum Osten -
shibak sharqi gGmbH,
In Kooperation mit schloss bröllin e.V., gefördert durch das
Bundesprogramm "Demokratie leben",
mit freundlicher Unterstützung des Institut français und des
französischen Ministeriums für Kultur/DGCA
und Teilnahme der Initiative "Pasewalk hilft".


English:
As COLLECTIF K-LI-P (Körper-Lumiere-Installation-Performance), German choreographer Christel Brink Przygodda and French visual artist Phillipe Veyrunes combine videos, texts, music, and movement to create open, interactive walk-through spaces for movement and experience that can be created anew in
different locations.
In their 2016/2017 project "EGODOCUMENT – Inszenierung der eigenen Existenz," the artists made their first foray into working with participants who were refugees, providing a space to contend with diverse experiences of exodus and migration.
In 2018/2019 with "PORTRAITS IM EXIL," they continued to develop their approach by seeking out young migrant adults and artists. The Universal Declaration of Human Rights, featured during the presentation in the form of video modules, served as inspiration in the creative process for PORTRAITS. Participants were asked questions regarding life in exile, centered around the theme of uncharted territory, exploring everything from their experiences of a new and foreign place to their hopes and dreams. From their answers emerged a series of disparate portraits
(or self-portraits), each a unique response to the enduring and ever-pressing issues of migration and exile that confront us all.
For the first time, PORTRAITS IM EXIL 2020 – Bröllin/Berlin is bringing participants from all facets of the project together to create a production that transcends borders. Each participant's story within the walk-through installation and performance contributes to an insightful, powerful scene inside the life of exile, allowing the viewer to experience each individual's unique path into a new community and a new life.

A COLLECTIF K-LI-P production in co-production with Fenster zum Osten –
shibak sharqi gGmbH and in collaboration with schloss bröllin e.V.
This project was made possible by the federal program "Demokratie leben" and the support of BTD Berlin Institut Français as well as the initiative "Pasewalk hilft."

Konzept & Choreografie: Christel Brink Przygodda
Konzept & Installation: Philippe Veyrunes
Musikkomposition: COLLECTIF K-LI-P auf der Basis einer Komposition von Matija Strnisa

Performance:
Christel Brink Przygodda
Philippe Veyrunes
Dyala Ghanam
Mohammed Diban
Ghaith Noori
Aseel Qupty
Uta Maske
Rahima Gossani

Produktionsassistenz: Christine Schmidt

Foto: Philippe Veyrunes
Location
Uferstudios
Uferstraße 23
13357 Berlin
Germany
Plan route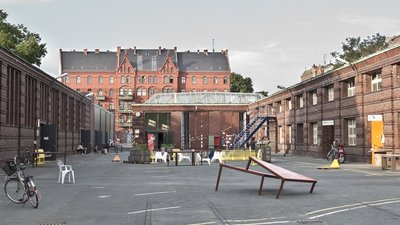 Früher befanden sich in dem schlichten Klinkergebäude im Wedding die Werkstätten der Berliner Verkehrsbetriebe, seit 2010 jedoch dienen die atmosphärischen Räumlichkeiten Tänzern, Künstlern, Studierenden und Dozierenden als einzigartiger Ort des Ausprobierens, Produzierens und Studierens.

Die Uferstudios liegen direkt am Ufer des Flüsschens Panke und bestehen aus 16 großzügigen Studios, Künstlerateliers und Büros, die Künstlern, Tänzern und Choreographen viel Freiraum für die Entwicklung und Umsetzung neuer künstlerischer Ideen und Methoden bieten und langfristige Entwicklungschancen sichern. Auch als Ausbildungsstätte werden die Uferstudios vom Hochschulübergreifenden Zentrum Tanz (HZT) gern genutzt. Ein künstlerisches Miteinander, das auch das Publikum einschließt, wird von den Uferstudios gewollt und unterstützt.

Die Uferstudios sind ein außergewöhnlicher, lebhafter und aufregender Ort, welcher vor allem als Produktionsstätte für zeitgenössischen Tanz dient und von neuen Ausdrucksweisen und Konzepten lebt. Diese treten in den Studios miteinander in Kontakt, verbinden sich und stellen so ihrerseits wieder Inspirationen zu originellen und unkonventionellen Möglichkeiten der Umsetzung dar.