Piece for Person and Ghetto Blaster
Nicola Gunn &nbsp
Tempelhofer Ufer 10
10963
Berlin
Tickets from €16.50
Concessions available
Event organiser: HAU - Hebbel am Ufer, Stresemannstraße 29, 10963 Berlin, Deutschland
Event info
Wann sollten wir uns einmischen? Und wie? In ihrem "Piece for Person and Ghetto Blaster" erkundet Nicola Gunn die ethische Dimension von Konfrontation und Intervention. Die australische Performancekünstlerin präsentiert ihrem Publikum ein moralisches Dilemma, dessen Untiefen sie in einer schweißtreibenden, simultanen Körper-, Denk- und Spracharbeit auslotet – die aber auch Witz und Selbstironie aufweist. Getragen und getrieben von einer hypnotischen Klangland- schaft entsteht ein intensives Stück in der Choreografie von Jo Lloyd; eine dichte, anregende Performance voll Eigensinn und Schönheit.
________________________________________________________________________________________

When should we get involved? And how? In her "Piece for Person and Ghetto Blaster", Nicola Gunn looks at the ethical side of confrontation and intervention. The Australian performance artist presents her audience with a moral dilemma, whose depths she fathoms in a furious act of movement, thought and language,
not without wit and self-irony. Carried and driven by a hypnotic landscape of sound and Jo Lloyd's choreography, the piece is a concentrated, intense performance full of wilfulness and beauty.
Location
HAU3
Tempelhofer Ufer 10
10963 Berlin
Germany
Plan route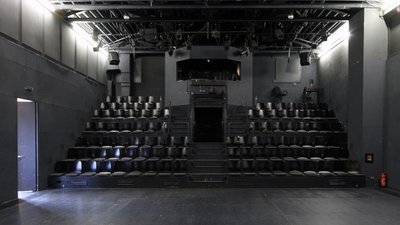 In der Spielzeit 2003/2004 haben sich drei selbstständige Bühnen zu einer neuen, einzigartigen Theaterinstitution zusammengefügt. Das Hebbel-Theater, das Theater am Halleschen Ufer und das Theater am Ufer bilden nun das "Hebbel am Ufer", kurz "HAU".

Hier weht ein frischer Wind, besonders in Person von Annemie Vanackere. Die Belgierin ist seit 2012 Intendantin des Hauses und hat sich voll und ganz der Kunst verschrieben. Sie steht für das Unkonventionelle und sammelte bereits in Gent sowie an der Schouwburg in Rotterdam Erfahrungen in der freien Theaterszene. Sie versteht das Theater als Freiraum, in dem Kunst und Ästhetik jegliche Form der Funktionalität überwinden, wodurch festgefahrene Strukturen und Denkmuster aufgebrochen werden können.

Innovation ist der kreative Motor des Theaters. Das HAU steht allerdings ebenso für Tradition: Sowie das Hebbel-Theater für internationale Gastspiele bekannt war, soll auch das Hebbel am Ufer eine Spielstätte für Künstler aus der ganzen Welt sein. So vielfältig und verschieden wie die beteiligten Akteure, ist daher auch das Programm, welches aus Theater, Tanz, Performance, Musik und Bildender Kunst besteht.