OF VIRTUE + TO KILL ACHILLES - "Europe & UK 2021" - + Support: HERUIN + MAY THE TEMPEST
Reitknechtstraße 6
80639
München
Event organiser: Backstage Concerts GmbH, Reitknechtstr. 6, 80639 München, Deutschland
Event info
For all those who have been longing for a way to express their innermost hidden fears, secrets, and desires - Of Virtue reaches out and hopes to be a voice in musical form. Using a combination of soaring melodies and heavy-hearted screams the band strives to welcome listeners attempting to answer a fundamental question: "What Defines You?"

Formed in Lansing, Michigan in 2009 with the concept of bringing positivity to their listeners, Of Virtue came out strong with their 2009 EP "To Breathe Again". It was this which catapulted them into the ears of many of listeners eager for something new, something real. Knowing that they had captured the attention of a fan-base within an exhausted genre, their first full album, "Heartsounds" helped define a message of inspiring people across the globe to find their passion through Of Virtue´s music. The band followed in 2012 with "Learn/Love", a limited release EP, which sold out immediately. In 2015, Of Virtue added more power to their sound via "Salvation", an album which has grown to be a staple for the band´s sound. After introducing Tyler Ennis as the new vocalist in 2017, the band released a stand-alone single, "Ghost Town," completely different from anything they´d done before. It was then when the band began their journey towards the new album, "What Defines You".

Of Virtue continues touring constantly to bring its sound to as many people live as possible. They have performed all across the Continental U.S, traversing Europe, and recently touring Asia. They plan to keep bringing their music as far as their passports allow. The band has performed at several major heavy music festivals, domestically and abroad including Warped Tour, Cornerstone, JAMboree, Bled Fest, UK Tech Fest, Fajtfest, and Rockstadt Extreme. Hot Topic awarded them the Band Grant grand prize in 2010 on the Earn It Yourself tour which led to their addition to the Kevin Says Stage at Warped Tour Detroit in 2011. Of Virtue have built a reputation following their performances supporting artists such as Bring Me The Horizon, Of Mice and Men, Every Time I Die, The Ghost Inside, Architects, and many more.

Find them touring in support of their 2019 SharpTone Records debut album, "What Defines You" now!
Location
BACKSTAGE Kultur- und Veranstaltungszentrum
Reitknechtstraße 6
80639 München
Germany
Plan route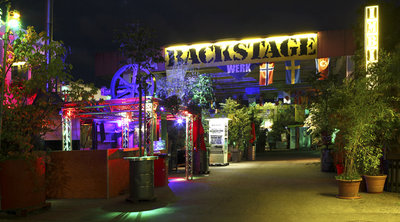 Das BACKSTAGE in München ist eines der bekanntesten Kultur- und Veranstaltungszentren in München. Die Räumlichkeiten des BACKSTAGE erstrecken sich von der BS-Halle über den BS-Club bis zum BS-Werk. Der Außenbereich lockt mit seinem großzügigen Biergarten alle Sonnenliebhaber sowie Frischluftfanatiker an.

Im BACKSTAGE Kultur- und Veranstaltungszentrum finden Konzerte, Festivals, Tanzveranstaltungen, Sportübertragungen sowie Kleinkunstevents und auch Ausstellungen und Märkte statt. Das Angebot an musikalischen Genres ist ebenfalls breit gefächert. Von Hip Hop über Reggea, Alternative, Independent und Electronic bis hin zu Rock, Funk & Soul ist hier wirklich alles vertreten. Die Räumlichkeiten des BACKSTAGEs eignen sich somit für Partys und Veranstaltungen jeglicher Art. Dass Eminem hier sein erstes Deutschland-Konzert gegeben hat, zählt wohl zu eines der größten Highlights. Aber auch andere bekannte Künstler wie Paolo Nutini oder Jamaram locken Fans nach München ins BACKSTAGE.

Mieten Sie das BACKSTAGE oder einzelne Bereiche des Kultur- und Veranstaltungszentrums für private Events oder besuchen Sie die Veranstaltungen aus dem Programm. Sie erreichen das Gelände bequem mit allen Münchner S-Bahnlinien (Haltestelle Hirschgarten), den TRAM-Linien 16/17/N16 (Haltestelle Steubenplatz) und 18/19/N19 (Haltestelle Lautensackstraße) sowie vereinzelten Buslinien. Für Gäste, die mit dem Auto kommen, gibt es kostenfreie Parkplätze vor dem BACKSTAGE.