Zu Ihrer Sicherheit und der weiteren Eindämmung des Coronavirus finden alle Veranstaltungen unter Einhaltung der aktuellen gesetzlichen Vorschriften statt: Die jeweiligen Veranstalterinnen und Veranstalter tragen Sorge, dass die Hygienemaßnahmen stets überwacht und eingehalten werden.
Rescheduled
Previous date:
MOSCOW DEATH BRIGADE - Album Release Tour 2021
Moscow Death Brigade &nbsp
Brückenstraße 23
90419
Nürnberg
Event organiser:
Pechschwarz, Allersberger Str. 185 L1a, 90461 Nürnberg, Deutschland
Event info
Wichtige Info:
Die Tour von MDB musste leider aufgrund von Covid-19 auf 2021 verschoben werden.
Neuer Termin für Nürnberg ist der 02.12.2021
Die Tickets behalten ihre Gültigkeit. Danke für euer Verständnis.

Aktuelle Infos unter www.pechschwarz.net

MOSCOW DEATH BRIGADE is a techno/rap/punk band from Russia that plays
"Circle Pit Hip-Hop": a unique and aggressive mix of electronic music, hardcore
punk and rap, steeped in graffiti and street culture and flavored with a progressive
social message against war, racism and other kinds of discrimination. In 2018
MDB played 47 shows with 30 Sold-Outs including the famous SO36 in Berlin
(850 people). In the same year the band has raised 4000 EUR in support of
"Sisters" a non-profit that helps victims of sexual and domestic abuse in Russia.
Initially created as a DIY team back in 2008 MDB has its roots in Russian
progressive social movements and graffiti underground scene. The band has
played more than 150 shows and numerous festivals all over the EU, including
Boomtown (UK), With Full Force (DE), Zikenstock (FR), Krach am Bach (DE),
Karlsoy Fest (NO), Wilwarin (DE), Resist to Exist (DE) and others. In 2019 the
band is slated to play Boomtown (UK), Xtreme (FR), Mighty Sounds (Cz), Rock
am Berg (DE) and other fests.
The band's latest album "Boltcutter" was TOP 5 2018 bestselling albums in
Coretex Store (one of the top webstores for HC and Punk in EU) along such
bands as Sick of It All, Terror, Madball and Slapshot. The band's numerous music
videos and gig-reports have amassed 8.5 million views on YouTube.

Links:
Facebook: https://www.facebook.com/moscowdeathbrigade
Instagram: https://www.instagram.com/yo_mdb_raps/
Videos
Event location
Stadtteilzentrum Desi e.V.
Brückenstrasse 23
90419 Nürnberg
Germany
Plan route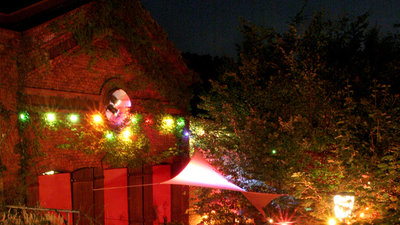 Der Verein Desi e.V. wurde 1978 gegründet. Das Hauptaugenmerk liegt auf Programm-, Flüchtlings- und Jugendkulturarbeit. Als selbstverwaltetes Zentrum verfolgt die Desi das Ziel, für alle Gruppen, Mitarbeiter und Besucher ein größtmögliches Maß an Selbstbestimmung zu erreichen. Die Desi bietet verschiedenen Gruppen Raum, sich zu treffen und ihre eigenen Vorstellungen bezüglich Kultur und Politik umzusetzen.

Etliche Vereinigungen und Initiativen finden in der Desi ihr Zuhause. Die Interessengemeinschaft Freie Flüchtlingsstadt Nürnberg, die 1986 aufgrund der damaligen rassistischen Wahlkampagne gegen Flüchtlinge gegründet wurde, wird genauso in dem Zentrum beherbergt, wie auch die Stelle für Jugendkulturarbeit eine Fahrradwerkstatt, die Desi-Kneipe und die Karawane, die sich für die Rechte von Flüchtlingen und Migranten einsetzt.

Im Rahmen des SommerNachtFilmFestivals flimmern außerdem jedes Jahr im August unter freiem Himmel Filme über die Leinwand. In der schönen Freiluftarena des Zentrums zeigt der Veranstalter des Festivals, das Mobile Kino e.V. an etwa zehn Terminen Filme, die abseits von Mainstream und Kommerz liegen. Dieses Kinoprogramm entwickelte sich über die Jahre von einem Geheimtipp zu einem beliebten Festival, das jährlich mehrere Tausend Zuschauer anlockt!