MONUMENT 0.7: M/OTHERS
Eszter Salamon &nbsp
Invalidenstraße 3
10115
Berlin
Tickets from €22.00
Concessions available
Event organiser: HAU - Hebbel am Ufer, Stresemannstraße 29, 10963 Berlin, Deutschland
Information on concessions
- Ermäßigte Karten gelten für Schüler*innen, Studierende, Jugendliche im Freiwilligendienst, Sozialhilfe- oder Arbeitslosengeld-Empfänger*innen, Inhaber*innen eines Schwerbehindertenausweises, Grundwehrdienstleistende, Auszubildende sowie Empfänger*innen nach dem Asylbewerberleistungsgesetz und sind nur mit einem Nachweis gültig. Bitte halten Sie diesen am Einlass bereit.
- Karten mit Tanzcard-Ermäßigung gelten nur in Verbindung mit einer gültigen Tanzcard.
_________________________________________

- Discount tickets are available for students, young people doing voluntary civil or military service, welfare recipients, recipients of unemployment services, disabled persons with identification, work trainees, those receiving assistance in the context of asylum. Discounts available only with a valid ID and corresponding proof.
- Tickets with a Tanzcard discount are available only on presentation of a valid Tanzcard.
Event info
Für Eszter Salamon sind zwischenmenschliche Beziehungen radikale Orte des Widerstands. Zahlreiche ihrer Arbeiten zeigen Empathie mit weiblichen Subjektivitäten und befassen sich mit feministischen Genealogien und generationsübergreifenden Beziehungen. In "M/OTHERS" überdenkt sie den Generations- vertrag, indem sie das Mutter-Tochter-Verhältnis erkundet. Das Stück bietet Gelegenheit, sich von gesellschaftlichen Normen zu distanzieren und regt unsere Fantasie zu neuen Handlungs-, Empfindungs- und Wahrnehmungsformen an. Zum zweiten Mal bittet Salamon ihre Mutter mit ihr aufzutreten. Eine Weiterentwicklung von "M/OTHERS" durch die Übergabe an andere Mutter-Tochter-Paare ist angedacht.
_________________________________________________________________________________________

Human relations are radical points of resistance, says Eszter Salamon. In empathy with female subjectivities several of her works focus on feminist genealogies and transgenerational rela- tions. "M/OTHERS" reconsiders the structures of generations by exploring the mother-and-daughter relation. It offers an occasion to move away from social norms and inspire our imagination to open new modalities of action, feeling and perception. This is the second time Salamon asks her mother to perform with her. "M/OTHERS" is envisaged to be developed further by transmitting it to various mother-daughter couples.
Location
St. Elisabeth-Kirche
Invalidenstraße 3
10115 Berlin
Germany
Plan route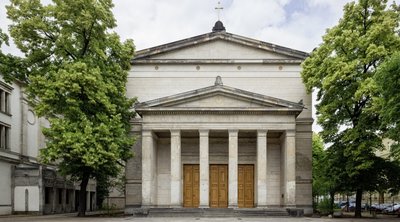 Die Berliner St. Elisabeth-Kirche ist heute ein Freiraum für die unterschiedlichsten Arten der Kunst und Kultur. Hier finden eine Reihe von Aufführungen aus den Bereichen Tanz, Theater, moderner wie klassischer Musik, Ausstellungen und vieles mehr statt. Nachdem das Gebäude im Zweiten Weltkrieg zerstört wurde, hatte die Natur die Ruine 50 Jahre lang für sich beansprucht. Sie ist nach umfangreichen Sanierungsarbeiten seit 2001 wieder für die Öffentlichkeit zugänglich.

Karl Friedrich Schinkel entwarf vier Sakralbauten im Zuge des Wachstums Berlins durch die Industrialisierung. St. Elisabeth ist die größte der vier klassizistischen Kirchen und erinnert, trotz des ungewöhnlichen schmucklosen Äußeren für einen Bau dieser Art, an einen antiken Tempel. Geschuldet war dies den wenigen finanziellen Mitteln. Die Hauptfassade besitzt einen Portikus mit sechs Pfeilern im tuskischen Stil. Das Innere der St. Elisabeth-Kirche ähnelt der Konstantinbasilika in Trier, eines der bedeutendsten antiken Bauwerke der Römer in Deutschland.

Außen wie innen besitzt die St. Elisabeth-Kirche ihren eigenen Charme, der bei jedem Event eine sagenhafte Atmosphäre entstehen lässt. Schauen auch Sie vorbei und erleben Sie selbst vielfältige Veranstaltungen in der St. Elisabeth-Kirche!