:lounge - MISTERIO - Konzert
lautten compagney &nbsp
Gustav-Adolf-Straße 2
13086
Berlin
Tickets from €15.00
Concessions available
Event organiser: Per Aspera e.V., Gustav-Adolf-Str. 2, 13086 Berlin, Deutschland
Information on concessions
Ermäßigung erhalten Schüler/innen, Studierende, Auszubildende, Schwerbehinderte, Arbeitslose, Sozialhilfeempfänger/innen und FSJler auch im Vorverkauf gegen Vorlage des entsprechenden Ausweises und nach Verfügbarkeit.

Rollstuhlfahrer bitten wir, ihren Besuch vor der Vorstellung unter folgender Emailadresse anzumelden. Eine Begleitperson erhält freien Eintritt.
tickets@theater-im-delphi.de
Event info
Musik aus den barocken Mysteriensonaten von Heinrich Ignaz Franz Biber und dem Tango Nuevo von Astor Piazzolla, beides arrangiert für ein Barockquartett der lautten compagney. Schon bald verfließen die Grenzen der Jahrhunderte und es ist ganz egal, in welchem Stil und in welcher Zeit man sich gerade befindet.

www.lauttencompagney.de


Music from the baroque Mystery Sonatas by Heinrich Ignaz Franz Biber and the Tango Nuevo by Astor Piazzolla, both arranged for a baroque quartet of the lautten compagney. Soon the boundaries of the centuries are blurred and it doesn´t matter what style or time you are.
Location
Theater im Delphi
Gustav-Adolf-Straße 2
13086 Berlin
Germany
Plan route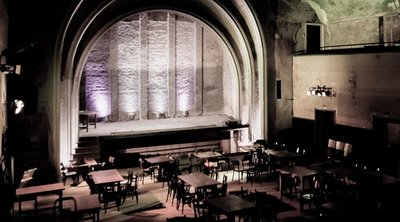 Das ehemalige Großraum- und Stummfilmkino Delphi ist ein Kunst- und Kulturraum im Gebäude des denkmalgeschützten Delphi-Theaters in Berlin.

Das Delphi-Kino wurde einst als Stummfilmkino im Jahre 1929 von Julius Krost erbaut. Das Kino bot 870 Personen Platz und wurde zur damaligen Zeit, als die Kinobranche boomte, sehr gut angenommen. Die Gegend rund um den Prenzlauer Berg, wo das Delphi liegt, wurde damals auch "Klein Hollywood" genannt, da dort damals unzählige Filmproduktionsstätten lagen. Nach der Integration von Weißensee in die Gemeinde Berlin begann der Aufstieg als internationale Filmstadt. 1959 wurde das Kino Delphi wegen baulicher Mängel geschlossen. Seit 2012 ist der Ort wieder für die Öffentlichkeit zugänglich und etablierte sich als ein Zentrum der Darstellenden Künste in der Hauptstadt. So entstand das pittoreske, einmalig schöne ehemalige Delphi und bietet heute ein breites Angebot an Theater, Tanz, Konzerten, Opern, Ausstellungen, Filmen und Hybrid-Projekten.

Neben regionalen und überregionalen Künstlern präsentieren sich im Delphi auch die Berlinale, die Fashion Week Berlin, die Transmediale sowie Hollywood. Erleben Sie das versteckte Juwel aus der Blütezeit des deutschen Films hautnah und genießen Sie künstlerische und kulturelle Highlights!