Zu Ihrer Sicherheit und der weiteren Eindämmung des Coronavirus finden alle Veranstaltungen unter Einhaltung der aktuellen gesetzlichen Vorschriften statt: Die jeweiligen Veranstalterinnen und Veranstalter tragen Sorge, dass die Hygienemaßnahmen stets überwacht und eingehalten werden.
LAGWAGON - EUROPEAN TOUR 2022 - + NOOPINION
LAGWAGON, NOOPINION &nbsp
Reitknechtstr. 6
80639
München
Event organiser:
Backstage Concerts GmbH, Reitknechtstr. 6, 80639 München, Deutschland
Information on concessions
Personen im Rollstuhl und Begleitpersonen von Personen mit Behinderung und "B" im Ausweis erhalten freien Eintritt ohne separate Karte.
Event info
After a nine year lag, it's time to get back on the wagon with the powerful and long-awaited album Hang from punk rock mainstays Lagwagon. It's not that the band broke up or even went on hiatus after releasing 2005's Resolve. They've continued a robust tour schedule, and frontman Joey Cape has released a steady stream of original material as a solo artist and with his other projects Bad Astronaut, Scorpios, and Bad Loud (not to mention cranking out cover albums with his other other project Me First and the Gimme Gimmes). "I'm writing all the time," says Cape, "but a lot of times it doesn't feel appropriate for Lagwagon. It's not who the band collectively is at the time, and the mold is constantly changing. Sometimes it takes a decade for all the stars to align!" That celestial harmonic convergence finally happened a few years ago when the band was on tour. "The lightbulb over the head came on, and I knew what the record would sound like and what we'd be saying. It's less of the '90s punk rock style we're known for. But this is the record my band wanted and needed to make." Indeed, the overall sound of Hang is darker and more hard-charging than some of Lagwagon's best-known work, as they address themes including loss, betrayal, aging, the environment, and the plight of the common man. It's not a totally bleak picture, though: all that disconnectedness underscores the need to make emotional investments, ensuring that empathy doesn't in fact become obsolete. The album also includes a musical tribute to Cape's late best friend, collaborator, and frequent tour mate Tony Sly (No Use For A Name), who died in July 2012, just days after the two had wrapped what would be their final acoustic tour. The title of "One More Song" draws from the closing chant of Sly's solo track "Liver Let Die," but was directly inspired by a different song, one we'll never be able to hear. "The last few days we were on tour together, he was writing a song and he played it for me and it was amazing," says Cape about the song's inspiration. "What happened to that song? I can't remember it. I can't recall it well enough to say "this is the last song Tony wrote." The band plan to release an arc of three singles with accompanying videos, but won't be appearing in the clips themselves, opting to work with a creative team that will focus on their words rather than their faces. "I think some of the coolest things you see on YouTube are lyric videos: so sophisticated. It's filmmaking, it's about how much vision the person has." So you won't see their faces on their YouTube channel, but there's an easy way to check out the mugs of a band who once played 284 shows in a single year: on a stage near you once the album is released on October 28. "This is the first record we've made in the history of the band that we wholeheartedly agree that we want to play every single song on the record live," says Joey. "It'll be great to play new songs. Sheesh, please!"
Videos
Event location
BACKSTAGE Kultur- und Veranstaltungszentrum
Reitknechtstraße 6
80639 München
Germany
Plan route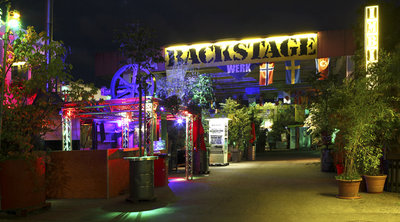 Das BACKSTAGE in München ist eines der bekanntesten Kultur- und Veranstaltungszentren in München. Die Räumlichkeiten des BACKSTAGE erstrecken sich von der BS-Halle über den BS-Club bis zum BS-Werk. Der Außenbereich lockt mit seinem großzügigen Biergarten alle Sonnenliebhaber sowie Frischluftfanatiker an.

Im BACKSTAGE Kultur- und Veranstaltungszentrum finden Konzerte, Festivals, Tanzveranstaltungen, Sportübertragungen sowie Kleinkunstevents und auch Ausstellungen und Märkte statt. Das Angebot an musikalischen Genres ist ebenfalls breit gefächert. Von Hip Hop über Reggea, Alternative, Independent und Electronic bis hin zu Rock, Funk & Soul ist hier wirklich alles vertreten. Die Räumlichkeiten des BACKSTAGEs eignen sich somit für Partys und Veranstaltungen jeglicher Art. Dass Eminem hier sein erstes Deutschland-Konzert gegeben hat, zählt wohl zu eines der größten Highlights. Aber auch andere bekannte Künstler wie Paolo Nutini oder Jamaram locken Fans nach München ins BACKSTAGE.

Mieten Sie das BACKSTAGE oder einzelne Bereiche des Kultur- und Veranstaltungszentrums für private Events oder besuchen Sie die Veranstaltungen aus dem Programm. Sie erreichen das Gelände bequem mit allen Münchner S-Bahnlinien (Haltestelle Hirschgarten), den TRAM-Linien 16/17/N16 (Haltestelle Steubenplatz) und 18/19/N19 (Haltestelle Lautensackstraße) sowie vereinzelten Buslinien. Für Gäste, die mit dem Auto kommen, gibt es kostenfreie Parkplätze vor dem BACKSTAGE.