Kammermusik | Feuertaufe
Mitglieder hr-Sinfonieorchester &nbsp
Bertramstraße 8
60320
Frankfurt am Main
Tickets from €19.00
Concessions available
Event organiser: Hessischer Rundfunk, Bertramstr. 8, 60320 Frankfurt am Main, Deutschland
Information on concessions
Ermäßigungen gelten für Schüler, Studierende (bis 27 Jahre), Auszubildende und Menschen mit Behinderung ab 80% GdB. Karten für Menschen mit Behinderung, Rollstuhlfahrer und Begleitpersonen bitte über 069 155 2000 buchen. Nachweise sind beim Einlass vorzuzeigen.

RMV-Kombiticket ist im Ticketpreis enthalten (außer bei Freikarten).
Event info
FEUERTAUFE

KAMMERKONZERT DER ORCHESTERAKADEMIE
DES hr-SINFONIEORCHESTERS

Interpreten und Programm aktuell auf:
hr-sinfonieorchester.de

Einmal pro Spielzeit haben die Stipendiaten der
Orchesterakademie die Gelegenheit, sich in
einem Konzert im hr-Sendesaal auch als Kammermusiker
zu präsentieren. Der hochtalentierte
Orchestermusiker-Nachwuchs wird dabei
allein wie auch gemeinsam mit Musikern des
hr-Sinfonieorchesters zu erleben sein. Attraktiv
ist diese kammermusikalische Feuertaufe dabei
jedes Mal!

___________

Once a season the scholarship holders of the
Orchestra Academy are given the opportunity to
perform as chamber musicians in a concert in
the hr Broadcasting Hall. The highly talented
young orchestral musicians can be heard alone
and also together with musicians from the Frankfurt
Radio Symphony. This concert is always a
baptism of fire for the young chamber musicians
and a joy for the audience!
Location
Großer Sendesaal des hessischen Rundfunks
Bertramstraße 8
60320 Frankfurt am Main
Germany
Plan route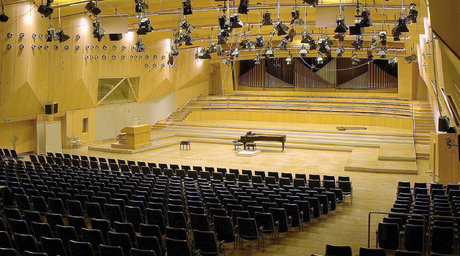 Von Klassik- und Jazzkonzerten, Kinderveranstaltungen, Kabarett, Previews, Lesungen und literarischen Gesprächen bis hin zum Deutschen Jazzfestival, Fastnachtssitzungen oder Fernsehübertragungen bietet der Sendesaal des Hessischen Rundfunks mit seinem Foyer Raum für die unterschiedlichsten Veranstaltungen. Die besondere Qualität des 1954 eingeweihten und 1987/88 komplett umgebauten hr-Sendesaals, der mit hellem Naturholz getäfelt ist, liegt nicht nur in seiner hervorragenden Akustik, sondern auch in seiner Multifunktionalität: Er ist Konzertsaal, Proberaum und modernes Tonstudio in einem, hier arbeitet das hr-Sinfonieorchester und gibt zahlreiche Konzerte, hier werden aber auch regelmäßig CD-Produktionen realisiert. An seiner Stirnseite verfügt der hr-Sendesaal über eine Konzert-Orgel. Der Publikumsbereich bietet bis zu 840 Sitzplätze.