Kammermusik | Disput & Dumka
Mitglieder hr-Sinfonieorchester &nbsp
Bertramstraße 8
60320
Frankfurt am Main
Tickets from €19.00
Concessions available
Event organiser: Hessischer Rundfunk, Bertramstr. 8, 60320 Frankfurt am Main, Deutschland
Information on concessions
Ermäßigungen gelten für Schüler, Studierende (bis 27 Jahre), Auszubildende und Menschen mit Behinderung ab 80% GdB. Karten für Menschen mit Behinderung, Rollstuhlfahrer und Begleitpersonen bitte über 069 155 2000 buchen. Nachweise sind beim Einlass vorzuzeigen.

RMV-Kombiticket ist im Ticketpreis enthalten (außer bei Freikarten).
Event info
DISPUT & DUMKA

ATLANTIC STRING DUO:
RACHELLE HUNT | Violine
STEFANIE PFAFFENZELLER | Violine/Viola

NAMI EJIRI | Klavier

Georg Friedrich Händel | Triosonate g-Moll op. 2 Nr. 6
Sergej Prokofjew | Sonate für zwei Violinen op. 56
Rebecca Clarke | Dumka für Violine, Viola und Klavier
Jeno Takács | Disput (Sie und Er) – für zwei Violinen aus: Tiberika Duos op. 103
Louis Spohr | Duet für Violine und Viola op. 13
Max Reger | Klaviertrio h-Moll op. 2 Nr. 1

___________

Streichduos mit und ohne Klavier. Prokofjew,
Takács und Spohr setzen reizvolle Duo-Akzente.
Zudem sind eine Triosonate Händels zu
erleben, ein Werk der spätimpressionistischen
Britin Rebecca Clarke sowie ein von Brahms'-
schen Tiefen kündendes Klaviertrio Regers.
String duos with and without piano. Prokofiev,
Takács and Spohr set delightful duo accents.
The other works performed are a trio sonata by
Handel, a piece by the British late-Impressionist
Rebecca Clarke and a piano trio by Reger, clearly
manifesting the depth of Brahms.
Location
Großer Sendesaal des hessischen Rundfunks
Bertramstraße 8
60320 Frankfurt am Main
Germany
Plan route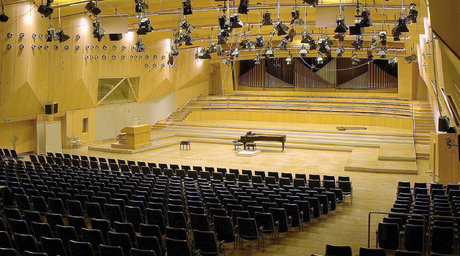 Von Klassik- und Jazzkonzerten, Kinderveranstaltungen, Kabarett, Previews, Lesungen und literarischen Gesprächen bis hin zum Deutschen Jazzfestival, Fastnachtssitzungen oder Fernsehübertragungen bietet der Sendesaal des Hessischen Rundfunks mit seinem Foyer Raum für die unterschiedlichsten Veranstaltungen. Die besondere Qualität des 1954 eingeweihten und 1987/88 komplett umgebauten hr-Sendesaals, der mit hellem Naturholz getäfelt ist, liegt nicht nur in seiner hervorragenden Akustik, sondern auch in seiner Multifunktionalität: Er ist Konzertsaal, Proberaum und modernes Tonstudio in einem, hier arbeitet das hr-Sinfonieorchester und gibt zahlreiche Konzerte, hier werden aber auch regelmäßig CD-Produktionen realisiert. An seiner Stirnseite verfügt der hr-Sendesaal über eine Konzert-Orgel. Der Publikumsbereich bietet bis zu 840 Sitzplätze.